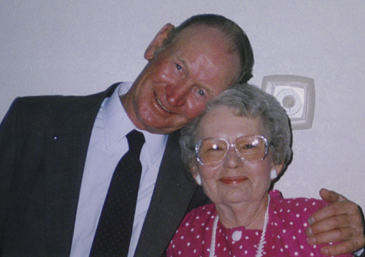 "Please take me home with you tonight."
These were Doris Radcliffe's words to her husband, Bob, as he visited her in the hospital one evening. As he left for the 45-mile drive home to their farm, those words resonated in his mind.
"I knew in my heart how deeply she really wanted to go home," Bob says.
The probability of Doris' recovery was minimal; she was dependent on a feeding tube because it was hard for her to swallow, and she was on oxygen most of the time. In addition, she was not able to walk on her own. The hospital staff did what they could, but Bob and the rest of her family knew she needed to be home.
For Doris, being home meant comfort, such as the privacy of using one's own bathroom. But is also meant being able to experience simple joys, such as looking out the windows over her kitchen sink where she could watch the happenings on the farm. It meant being near her beloved sewing table—the one where she had spent countless hours lovingly crafting so many dresses for herself and three daughters. At home, Doris could spend time in her garden, enjoying the busy bird feeder.
As dear as these things were, it was love and nearness of family and friends that made being home so special. With the support of Hospice of the Red River Valley, Bob was able to bring Doris home.
Each of their three daughters shared her time and talents to make their mother's final months as comfortable and meaningful as possible. Vikki made all of Mom's favorite foods. Liz and her mother crafted together. As a nurse, Roberta helped plan her mother's care and medication needs.
"All of this was possible with the incredible help we received from the Hospice team. Each one of them was such an angel; 12 years later, they are still very precious to me," says Bob.
There were some "not so good" days, but there were days made wonderful by the nearness and the love of family, plus the support of Hospice. On February 26, 1999, Doris died peacefully with her family at her side.
Because of the care and support Bob and his family received, he gives back to Hospice of the Red River Valley, both with his time as a volunteer, and with financial support as a donor.
"I know it's exhausting to care for a dying loved one," Bob says, "but with the support of Hospice, it can also be a blessing. I hope others will be inspired by our story and join me in supporting the future of Hospice of the Red River Valley so others may also be blessed with this care."
If you have questions about how your loved one or family could benefit from hospice care, contact us today at (800) 237-4629 or questions@hrrv.org.
About Hospice of the Red River Valley
In 1981, Hospice of the Red River Valley was founded on the belief that everyone deserves access to high-quality end-of-life care. We fulfill our nonprofit mission by providing medical, emotional, personal and spiritual care, as well as grief support to our patients, their families and caregivers during a tender time in life. Our staff helps those we serve experience more meaningful moments through exceptional hospice care, 24 hours a day, 365 days a year, wherever a patient calls home. The organization serves more than 40,000 square miles in North Dakota and Minnesota, including in and around Bismarck, Detroit Lakes, Devils Lake, Fargo, Fergus Falls, Grand Forks, Lisbon, Thief River Falls, Valley City and many more communities. Hospice of the Red River Valley offers round-the-clock availability via phone, prompt response times and same-day admissions, including evenings, weekends and holidays. Contact us anytime at 800-237-4629 or hrrv.org.