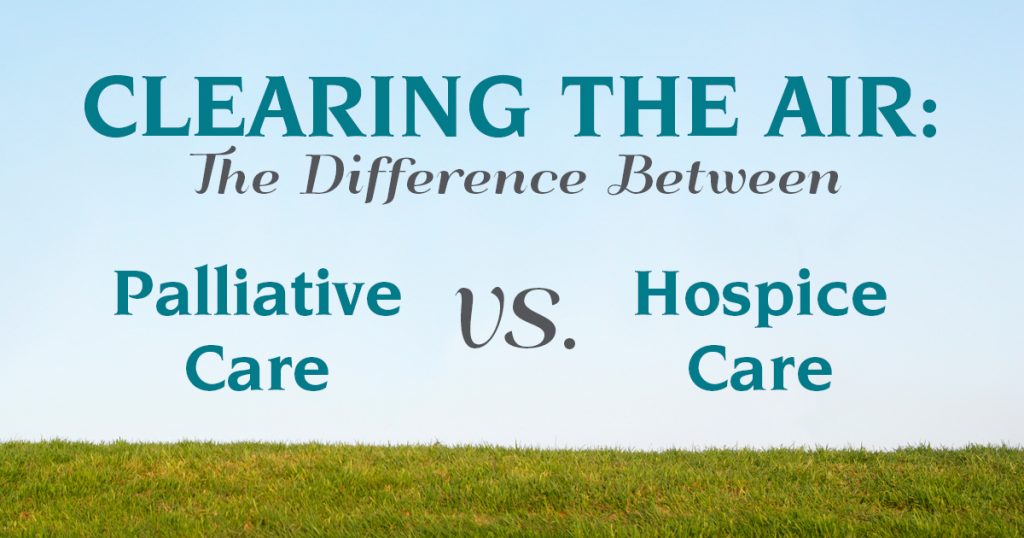 Defining the Difference
The distinction between palliative care and hospice care can be confusing when deciding the next best course of action when you or a loved one is faced with a serious illness. Although both care plans have similar comprehensive, multidisciplinary team approaches—focusing on holistic care for the entire person—including medical, emotional and spiritual needs, they have key differentiating factors. The main differences include the patient's prognosis, disease progression and desires for curative treatments.
Hospice care is palliative care, but not all palliative care is hospice care. Palliative care is a type of specialty medicine focusing on pain and symptom management, and hospice care is a subset of that type of care. Think of it in these terms: a dentist is a doctor with an area of expertise—dentistry—but not all doctors are dentists. Dentists simply fit under the umbrella of medicine with particular area of focus.
Palliative Care
Palliative care services are appropriate for any patient, no matter the patient's diagnosis or disease progression. Individuals with chronic or serious illnesses, those receiving aggressive, curative care and those nearing the end of their lives, are all candidates for palliative medicine. Many times, palliative treatments are used to alleviate side affects of aggressive treatments like those associated with chemotherapy. The patient can work toward curative treatments while receiving palliative treatments and may even one day fully recover from their illness.
Hospice Care
Hospice care, on the other hand, is for those who have a life-limiting illness with a diagnosis of six months or less to live if their illness follows its normal course, according to the patient's physician and a hospice physician. Although the initial prognosis for a patient must be six months or less to live, it does not mean the patient will be discharged if they live beyond that time frame.
The foundation of hospice care is to provide comfort and symptom management through high-quality care at the end of one's life. The focus of care shifts from aggressive to comfort care for the patient through the use of medication to keep the patient comfortable when hospice services are started. Where the care takes place is also distinctive to hospice. Services are provided wherever the individual calls home, such as a private residence, nursing home, assisted living facility, veterans' facility or hospital.
Under the Hospice Medicare benefit, care includes access to hospice services 24-hours a day, seven days a week. Pharmaceuticals and medical equipment are also available under the benefit. Another unique aspect of hospice is grief support for family members up to 13 months after their loved one passes.
It's a Choice
If you thought you had a year to live, would you live your days differently than if you were told you only had a week to live? Currently, the focus has shifted to the use of palliative medicine vs. hospice care for end-of-life care. Typically, this shift has not allowed people to make a timely and educated decision on how they wish to proceed with their end-of-life care.
Would you choose to undergo multiple tests, poking and prodding in an effort to give yourself maybe one more day or week? Because an individual can continue receiving aggressive treatments while receiving palliative-type services, that person may be subject to unwanted or unnecessary testing and treatments if they are not given all care plan options, including hospice. Shifting the focus to hospice care is a difficult decision for many patients and their families, but what most people don't realize is that most palliative care triggers used to identify the right time to talk about palliative medicine are very similar triggers to what hospice uses when evaluating a patient for appropriateness of admission to hospice care. Ultimately, it's up to the patient and the course they would like to chart through their journey.
Reflection
I'm often reminded of a patient, we'll call him John; we had on service at Hospice. John grew up in an era where you always did what the doctor recommended—even if that meant you should consider additional testing, procedures or a trip to see a medical specialist many miles away. He wanted to live, and he had so much to live for, including a beautiful family, loving and caring wife and his precious farm. Regardless of his will to live, his illness took a toll, and his condition wasn't improving.
John endured every test, surgery and curative treatment conceivable. It wasn't until he had only a few days left to live that he was given the option of palliative care and hospice, changing the direction of his care plan. His final month of life was spent in the hospital, undergoing an additional surgery just two weeks before he passed. John already had a weak heart, bad liver and failing kidneys. With his kidney complications, it was recommended that he should proceed with dialysis. John's heart could not tolerate the treatment, so it was stopped partially through the first run.
He wanted to spend his final days at his beloved farm, but rather than offering comfort medication to allow him to remain in his home and be comfortable, John ended up weak, deconditioned and unable to return home. His last days were spent in a nursing home with hospice care on board, and John finally received care to keep him comfortable. He did have a few good days at the nursing home, and he was able to enjoy his family, laugh about good times and ride his scooter outdoors to soak up some sunshine. I wonder how his final days would have played out had he been involved in palliative care/hospice care sooner. Unfortunately, we will never know.
What's right for you or your loved one?
Palliative care should be implemented early in the disease process as aggressive therapies remain in place. The use of palliative medicine should increase as the disease process advances, and this will allow the patient to advance to a level of care like hospice, continuing with comfort care. Hospice services enhance an established care plan by offering additional pain and symptom management, spiritual care and bereavement support. As the patient approaches end of life, hospice can be there to help with final goodbyes—both for the patient and their family. This time is not only important for the patient, but it is also essential for the family.
Palliative care and hospice care are valid treatment plan options. It's true that aggressive treatment choices will always be there—there will always be the next test or surgery—but the benefits vs. difficulties for the patient and family should be considered. When appropriate implementation of palliative medicine is used, it can offer the patient an opportunity to choose the care that most closely aligns with their end-of-life wishes and personal values.
About Hospice of the Red River Valley
In 1981, Hospice of the Red River Valley was founded on the belief that everyone deserves access to high-quality end-of-life care. We fulfill our nonprofit mission by providing medical, emotional, personal and spiritual care, as well as grief support to our patients, their families and caregivers during a tender time in life. Our staff helps those we serve experience more meaningful moments through exceptional hospice care, 24 hours a day, 365 days a year, wherever a patient calls home. The organization serves more than 40,000 square miles in North Dakota and Minnesota, including in and around Bismarck, Detroit Lakes, Devils Lake, Fargo, Fergus Falls, Grand Forks, Lisbon, Thief River Falls, Valley City and many more communities. Hospice of the Red River Valley offers round-the-clock availability via phone, prompt response times and same-day admissions, including evenings, weekends and holidays. Contact us anytime at 800-237-4629 or hrrv.org.