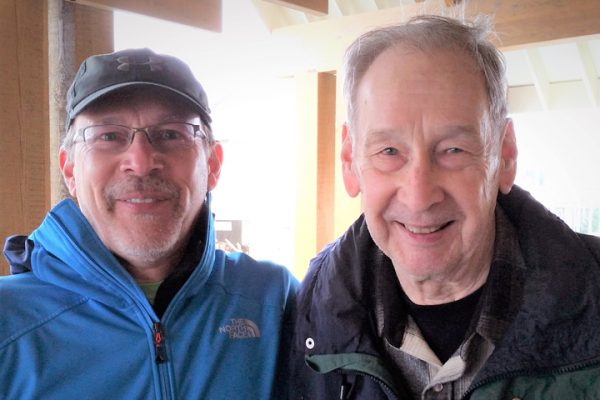 Silence. Calm. Peacefulness. When Joel Kangas opened the door to his dying father's room, he was met with a serene wave of this intangible, irreplaceable ambience.
"I'll never forget that feeling," Joel said. "It was a good place for dad to spend his last few days."
Joel's dad was Rev. Carl Thomas Kangas.
That special place was the only dedicated, stand-alone inpatient hospice care facility in South Puget Sound, Wash.
It was where the Kangas family came to say goodbye together, the place where he last held his father's hand. And, it's a place that's forever etched in Joel's memory and heart.
A Life Well Lived
Carl Thomas Kangas was an active Lutheran pastor for 43 years, called to serve in many congregations in multiple states. His family and friends knew him as Tom.
He was hard working. Being a pastor was a more than full-time career with frequent emergency nighttime calls or hospital visits on the weekend.
Tom had a continual thirst for knowledge, reading deeply on each subject and attending continuing education conferences.
He also had a fondness for driving fast. "No accidents, but he could wallpaper a wall with speeding tickets," Joel quipped.
Tom and his wife, Jane, settled in Bremerton, Wash., following his well-earned retirement. They planned to live out their days spending time together, visiting their four children, six grandchildren and three great-grandchildren.
Life took an unexpected turn for Tom as he had what was hoped to be a routine surgery. Things didn't go as planned. Joel, who is a dentist in Fargo, N.D., received a call from his family to join them in Seattle where his father was hospitalized.
As soon as Joel entered the hospital room, he knew the situation was grave. Although Tom's health was failing, Tom was still able to talk with his son. Father and son exchanged what were Tom's final words — a treasured memory for Joel.
Joel feels his father knew the end was near.
"When I was at his bedside that first day, I wanted to share what was in my heart," Joel said. "I thanked him for everything he did for me. I told him 'I love you' many times over."
The hospital was bustling. It was noisy with alarms continually going off. Tom's room was adjacent to a busy nurse's station.
Tom had a variety of tubes and wires draped across his bed, which were attached to machines that provided a constant background of beeps and clicks.
The hospital room itself wasn't designed for multiple visitors of family and friends to comfortably sit at the bedside. A lone chair wasn't enough to accommodate a peaceful setting for a family to say goodbye.
A surgeon came in periodically for a post-operative check but didn't offer much in words of comfort. After all, a hospital is dedicated to healing people, not focused on unique end-of-life needs.
The hospital's palliative care nurse mentioned the possibility of transferring Tom to a hospice house. Until that point, Joel was not familiar with such a place.
The family quickly agreed. The next morning, the nurse confirmed the availability of a bed at the hospice house. An ambulance transported Tom to the Franciscan Hospice House in Tacoma while the family finished signing papers at the hospital.
The environment they were leaving was starkly different from what awaited Tom and his family behind the hospice house doors.
Finding Peace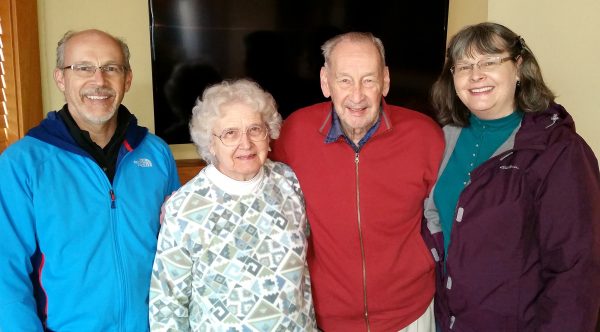 The idyllic one-story hospice house is tucked into a quiet residential street and surrounded by mature pine and young autumn blaze maple trees. The feel of the neighborhood surroundings immediately put the family at ease. It offered them a sense and familiarity of home.
When Joel opened the door to his father's room, he saw his father clean shaven and tucked into a clean, comfortable bed and in his own pajamas, not a hospital gown. The hospice house nursing aides had immediately applied their gentle touch to help Tom look and feel like himself—restoring dignity with their customized care.
"It was comforting to see him so comfortable," Joel said. "He absolutely seemed at peace."
Tom's room was just the right size. "If you had one visitor you weren't swallowed up by the largeness of the room," Joel said. "But you could fit six to eight people in the room and still be comfortable."
The family took turns visiting with Tom and mingling in the social areas of the facility, including a family room, kitchen, gardens, meditation chapel and other sitting areas.
Joel slept in his father's room one night. He awoke in the morning to the sound of a flute. He thought it was the calm classical music—Tom's favorite—the family had left playing softly overnight. Instead, a flutist was standing near Tom's bed playing.
"I know my dad heard it on some level," Joel said. "She [the flutist] was aware I was there, but not for one second did she deviate from playing the music. I appreciate her dedication she had for playing for my dad."
Joel continued to listen for a few minutes, but then he slipped out of the room to leave his dad and the music therapist as she filled the room with soothing notes.
This experience stuck out to Joel about their time at the hospice house. "This place offered dignity for the individual and the family," he said. "And a calmness and quietness that lets the family focus on the spirituality and the emotion of the loved one's final days."
The hospice house also provided an informal support group, of sorts. Other families were having similar experiences as the Kangas family. They were able to connect and empathize with one another. Shared experiences provide validation and understanding for families facing the final chapter in life.
The beauty and tranquility of the place extended a needed sense of calm, but even more so were the people who cared for Tom.
In addition to the expert medical team, the family also talked with a hospice social worker and chaplain.
"One of the short phrases the chaplain shared that I found very helpful was 'It's OK to tell your loved one it's OK to go, to die.' I knew it was OK to say this and had been telling my dad during his last few days," Joel said. "I told him, 'It's OK to go home.'"
Joel's family returned to his brother's nearby home. While there, they received the call that Tom had passed late that evening. They returned to the hospice house one last time.
"I remember entering the room and it was very, very quiet," Joel said. "The bed was cleanly made, and dad was propped up and his hands had been cleaned as well, and the staff had put a soft heart in his folded hands." Even after his death, the hospice house staff displayed the utmost in respect and dignity for Tom. This had a profound effect on the family.
Tom spent three days in the hospice house. He died July 27, 2018. He was 86.
Joel was the last family member to see Tom before he passed. He decided to linger a while longer the final evening after the family left. He cherishes the moments he spent with his father.
"I know the language of the church, and I know the language of a pastor, and it was an honor to share some of those final words with my dad," Joel said. "And, that is what I did for the last half an hour or so."
"Some people see death as something that happens after the life force is gone," Joel said. "I see death as a process in the last weeks or days of a person's life. It's part of the life experience itself. Hospice can help us until we take that last breath."
Filling the Need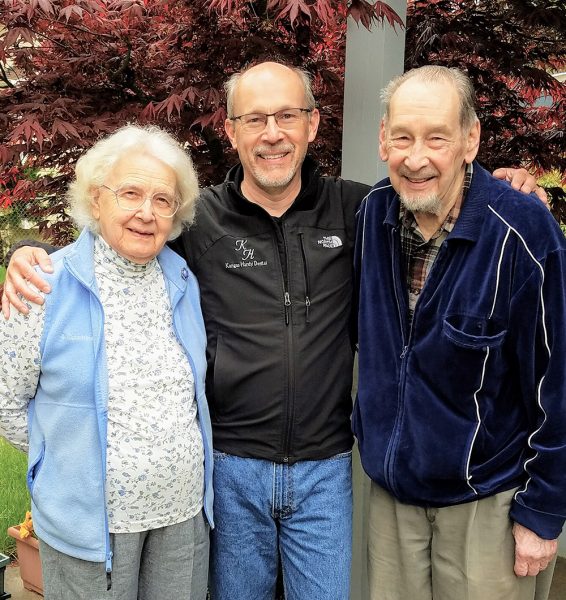 If the hospice house hadn't been an option, Joel's father likely would have had an extended and expensive hospital stay. It would have been difficult for the family to help with Tom's physical care.
"While it was never discussed, it would have been extremely difficult to transfer dad back home," Joel said.
Everyone deserves quality of life—from the moment they are born through their last days. Currently, there is an unmet need in our community, and Hospice of the Red River Valley is fulfilling that need by building North Dakota's first free-standing Hospice House, named "Heather's House."
In this peaceful, home-like residence, Heather's House staff will care for terminally ill patients when being in their own home is not an option or preferred. Hospice staff will provide expert comfort care that supports physical, emotional and spiritual wellbeing. Heather's House will be a home-away-from-home that provides integrated hospice care for generations to come.
"To have the wonderful option of having dad spend the last three days in a dedicated hospice house was good not only for my father, but especially for the family," Joel said. "As a retired Lutheran pastor, my dad had shared the death experience with countless other people. So, to be on the other side of that and to provide some spiritual support for my dad, the pastor, in a hospice house setting was wonderful. Quiet, like a chapel, ample light and space, yet with dedicated professionals who could help guide the process along."
Learn More
To learn more about Hospice of the Red River Valley's development of Heather's House, contact michael.meyer@hrrv.org or sign up here to receive news updates.