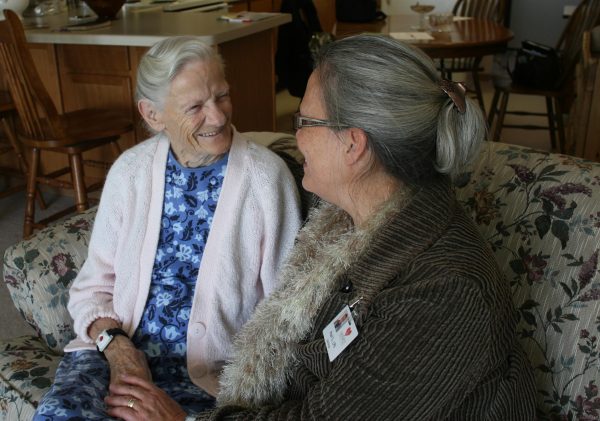 Receiving a terminal diagnosis raises a flood of emotion. For those living in rural communities with limited medical resources, an additional fear can be the need to travel hundreds of miles for doctor's appointments or face hospitalization in a city far from home.
When Marjorie Wright of Gwinner, N.D., received such a diagnosis, she immediately knew she wanted something better. Without hesitation, she requested hospice care and was delighted to stay and be well cared for right in her home.
A cheerful, friendly woman in her mid 80s, Marjorie returned to North Dakota several years ago after living all over the country. She had grown up on a farm in rural Lisbon, but left the area as a young woman, first moving to Milwaukee in the early 1940s, and then to Orlando, Florida, where she worked in the cafeteria of a military base.
It was there she met her future husband, Bill, who she describes as a "southern gentleman, and a persistent fellow; he kept wanting to date me." Bill's persistence paid off, and he and Marjorie eventually married. Bill's career took the family across the United States. Both of their children, Melissa and Steven, were born in Georgia. Eventually, they settled in New Mexico.
Always adventurous, Marjorie decided to pursue a nursing career once her children were in school. In 1960, she graduated in the second practical nursing class at a local hospital, and went on to spend 14 years working as a practical nurse. "I was always very healthy, and very active," Marjorie explains, reflecting on her many years. The only exception was a cervical cancer diagnosis in her late 30s. She beat the cancer, and lived the next 45 years as a cancer survivor.
After her husband passed away, Marjorie returned to the Gwinner area, eventually settling into a cozy townhome where she resided between her busy travels. She remained active, and especially enjoyed hiking and gardening. Her contributions to the Gwinner community were many. She often weeded the park near her home, wanting the children in the community to have a nice place to play. The town even honored her work by naming "Wright Park" in her honor.
Marjorie spent the winter of 2012 in Arizona, visiting her daughter, Melissa, as she had so many previous winters. "I had no idea anything was wrong, I felt really good," Marjorie recalls. Things changed, however, when she came back home in May.
"In June, I started having back pain. I decided I should go to the doctor in Oakes, and the doctor decided to do a CT scan. I don't know exactly what he saw, but it mustn't have been good," she remembers. "After looking at all the tests, the doctor explained the cancer was quite advanced, having already spread to the liver and lymph nodes," Marjorie explains. "So, the doctor wondered what I wanted to do. He said, 'Well, I could do the surgery, but the outcome of surgery and treatments may not be good and your quality of life may be less,' and he didn't want to put me through that unless I really wanted to."
Instead, Marjorie made the decision she felt was best for her. "I told the doctor, 'No. I had heard some good things about hospice.'" First, however, the doctor asked Marjorie to visit a specialist in Fargo for a second opinion, which she obliged.
"The doctor in Fargo asked if I wanted more tests, and I said no. I said, 'I'd just like to sign up with hospice.' He got on it right away, and signed me up with Hospice of the Red River Valley."
Marjorie's decision to forgo treatments and surgery for her advanced cancer has instead allowed her to focus on quality of life, and enjoying the same things she always has, while she still can. Marjorie partly credits her decision to ask her physician for hospice care based on the experience she had watching the wonderful care her brother, Richard, received from Hospice of the Red River Valley before he passed away in 2010.
Marjorie came under the care of Hospice of the Red River Valley in late July. To her delight, a close family friend, Pearl, was even assigned as one of her hospice nurses.
"I couldn't want for a thing," Marjorie says about her experience on hospice care. "My daughter came home from Arizona for a week, and we had a real good time. We had quality time together, allowing us to do some paperwork and things we need to take care of. I try to make all the preparations I can for my time here, and be ready for when it's over."
Most importantly, although Marjorie lives alone, she's been able to have her symptoms managed right in the comfort of her own home. With Hospice of the Red River Valley, and the support of friends and family collaborating in her care, she's been able to stay in the rural community she loves.
In addition to nursing care to regulate her medications and ensure she is comfortable, Marjorie receives visits from a hospice social worker and chaplain. The social worker has helped her get financial items in order, and the chaplain often sings to her on his visits. "He's very nice to visit with," Marjorie says with a smile.
Marjorie has seen how Hospice of the Red River Valley staff has provided comfort to her family, as well. "My daughter was worried, but I told her, 'Melissa, you don't have to worry about me, I don't want for anything.' I try to ease her mind a little bit. The nurses and social workers have been calling her, too, and she really appreciates it."
Pearl has seen the positive effects of Marjorie's optimistic attitude. "Marjorie just doesn't dwell on how sick she is, or how sick she feels, at all," Pearl explains.
Marjorie understands many other people may, at some point, struggle with a diagnosis like hers and will need to make decisions about care. She encourages people to consider hospice.
"I've already told a lot of people about hospice, because I've just had such wonderful care," says Marjorie. "If people do ask, I tell them, 'I have nothing but good things to say about hospice.' I've just had wonderful care. They just meet my every need. I just think it's a wonderful organization."
About Hospice of the Red River Valley
In 1981, Hospice of the Red River Valley was founded on the belief that everyone deserves access to high-quality end-of-life care. We fulfill our nonprofit mission by providing medical, emotional, personal and spiritual care, as well as grief support to our patients, their families and caregivers during a tender time in life. Our staff helps those we serve experience more meaningful moments through exceptional hospice care, 24 hours a day, 365 days a year, wherever a patient calls home. The organization serves more than 40,000 square miles in North Dakota and Minnesota, including in and around Bismarck, Detroit Lakes, Devils Lake, Fargo, Fergus Falls, Grand Forks, Lisbon, Thief River Falls, Valley City and many more communities. Hospice of the Red River Valley offers round-the-clock availability via phone, prompt response times and same-day admissions, including evenings, weekends and holidays. Contact us anytime at 800-237-4629 or hrrv.org.