The old saying, "love at first sight," rings true for Cyndy and Tony Andren, a Valley City, N.D., couple, who recently celebrated 25 years of marriage, filled with love, compassion, faith and family. Their courtship began as friendly neighbors and effortlessly grew into a deeper affection. "I really started to notice Tony when I witnessed how nice he was to the neighborhood kids, including my daughter," Cyndy said. "I was a little bit older when we met, and I knew the type of person I was looking for."
Tony was the perfect fit for Cyndy and her little family, and they became husband and wife just four months after their first kiss. Two years after they tied the knot, Tony adopted Cyndy's oldest daughter, and later the couple welcomed a son and another daughter into their family.
Cyndy spent her days taking care of the children and household while Tony made his living as a truck driver. Their weekdays away from each other have required some balancing throughout the years, but ultimately they set the foundation for a deeper, stronger relationship.
Cyndy and Tony's foundational strength and resilience have become particularly significant as Cyndy faces end-stage COPD, a progressive lung disease. With the children grown and living out of the area, and Tony still on the road during the week, daily life has become challenging for Cyndy as her condition has progressed. The couple knew they needed additional support.
In January 2017, they welcomed Hospice of the Red River Valley into their home, and much like the couple's connection, their relationship with Hospice of the Red River Valley staff members was an immediate and natural fit, too.
"I actually called Hospice myself because I realized I needed to advocate for myself more," Cyndy shared. "I was diagnosed with COPD eight years ago, and at that time it was very mild. But it keeps getting worse and worse. I know there is no cure for it, so calling Hospice at least made me feel better."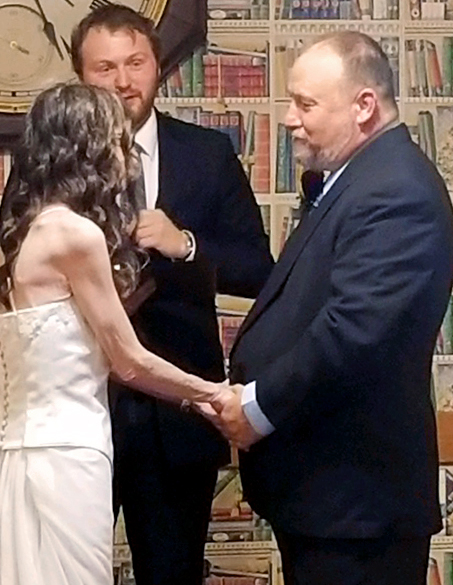 For Cyndy, Hospice has been the perfect marriage of companionship, medical care and emotional support, but what she's enjoyed the most is the close-knit relationships she's formed with Hospice of the Red River Valley staff, especially Registered Nurse Katie Dahlstrom and Social Worker Karolee.
Katie and Karolee have both formed heartfelt bonds with Cyndy through consistent visits and open, honest communication. Cyndy believes both women genuinely care for her as a person, not just as a hospice patient.
From Katie's weekly visits to check her vitals and fulfill her other medical needs, to Karolee's phone calls before her weekly check-in appointments, Cyndy could never have imagined how cared for and valued hospice staff would make her feel.
"On the human side, I just wasn't expecting hospice care to have such a strong human connection. Making people feel special has always been my job; that's not supposed to happen to me," Cyndy shared with a smile.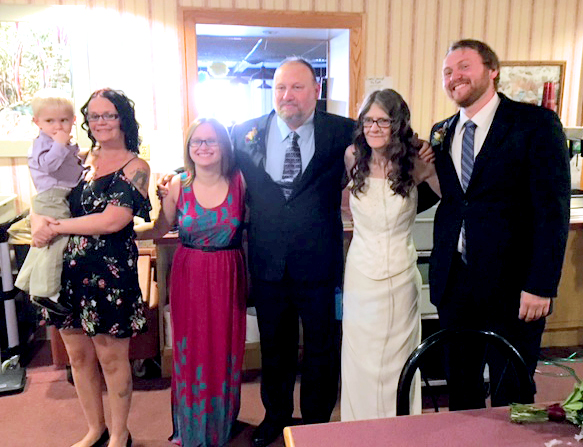 It's that same caring nature and desire to provide more meaningful moments for Cyndy that sparked an idea for Katie. She heard Cyndy and Tony were planning to renew their wedding vows in celebration of their recent 25th anniversary.
Katie began to formulate a plan with other Hospice of the Red River Valley staff to secure bridal-related items to help make the renewal even more celebratory for the family. The couple planned to have their son, who enrolled in ministry school, perform a quaint ceremony in a backroom at a local restaurant.
"When I heard Cyndy was renewing her vows, I thought it would be fun to surprise her. I mentioned the idea to Chad, and it snowballed from there," Katie said. "I think most people get joy out of seeing other people happy, I know I sure do. For me, it was one small idea that grew by asking others to help. I know Cyndy was pleasantly surprised and it meant so much to her."
Hospice employee Chad Couture and his wife, Tanya, own a Valley City boutique called Urban Couture, and they generously donated a wedding dress with alterations and shoes to Cyndy.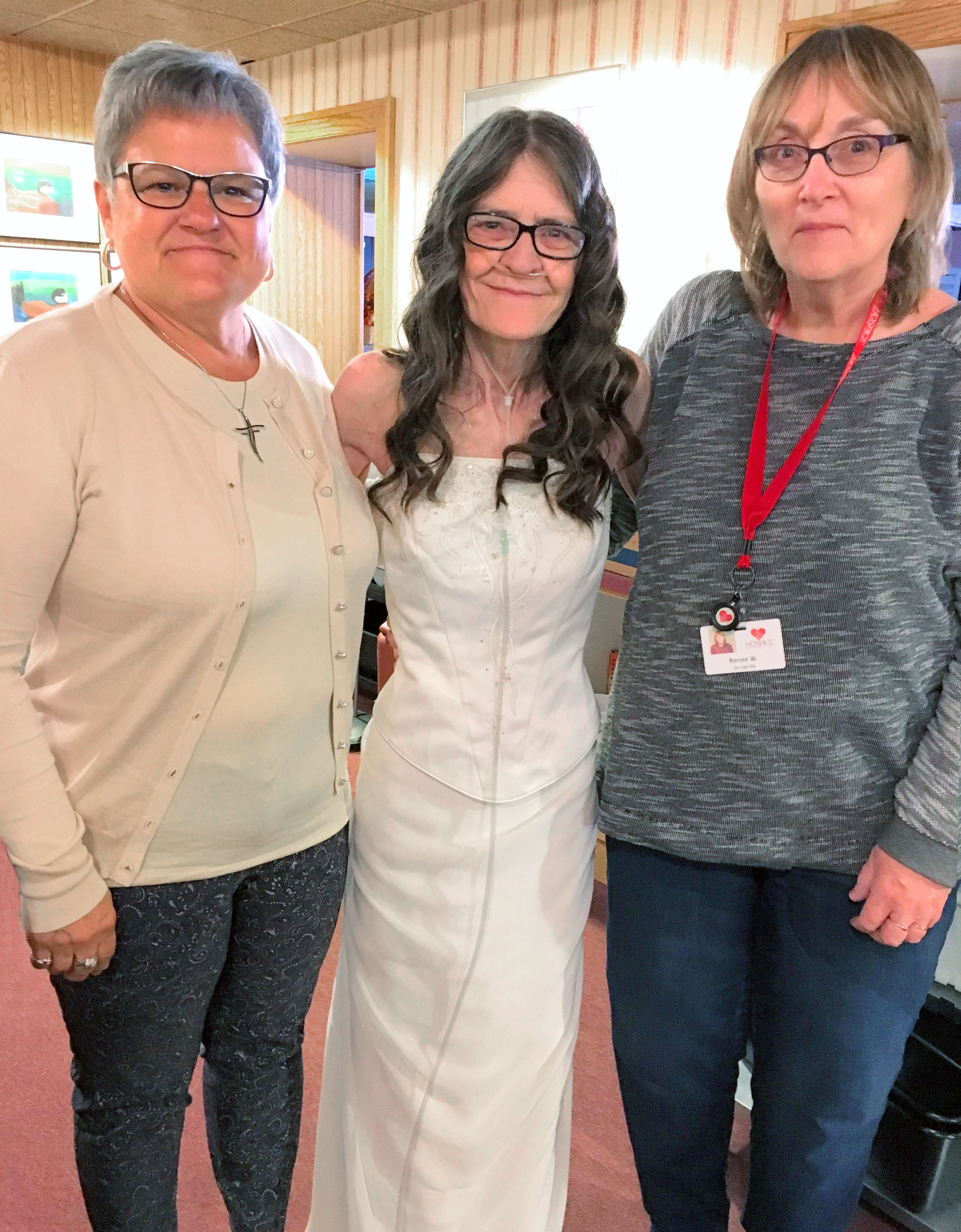 "When Chad and Tanya brought over the dress, I just stood there and stared it because it looked very similar in style to my mom's wedding dress with pearl buttons up the back, which I loved when I was younger," Cyndy explained. "I was in tears when I got to see the dress. I felt like Cinderella. Then I told them both that I didn't know if they were huggy people, but today you are because you're both getting a hug!"
I thought of the one thing my wife Tanya continues to remind me of all the time-every bride deserves to have a special day. So I knew that when I approached Tanya with this idea that she would eagerly jump at the opportunity to help Cyndy by donating a dress for this special occasion," Chad said.
Pearl Stockwell, hospice nurse, came to Cyndy's home to carefully take accurate dress measurements for alterations. Another hospice employee worked with Love Always Floral of Fargo to donate matching wedding florals, including a bouquet for Cyndy, two bridesmaids bouquets, a flower girl bouquet and two boutonnieres, to complement the bridal theme.
And it's that same level of caring and sense of family she will rely on as she continues to make the best of her end-of-life journey—no matter what the future holds—she's confident she's in good hands with Hospice of the Red River Valley.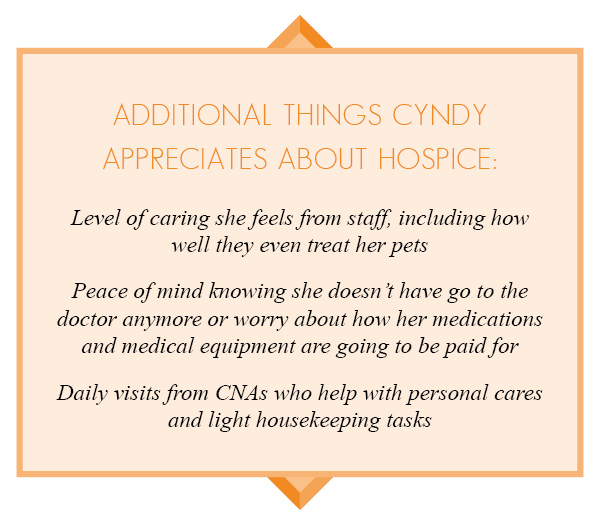 About Hospice of the Red River Valley
In 1981, Hospice of the Red River Valley was founded on the belief that everyone deserves access to high-quality end-of-life care. We fulfill our nonprofit mission by providing medical, emotional, personal and spiritual care, as well as grief support to our patients, their families and caregivers during a tender time in life. Our staff helps those we serve experience more meaningful moments through exceptional hospice care, 24 hours a day, 365 days a year, wherever a patient calls home. The organization serves more than 40,000 square miles in North Dakota and Minnesota, including in and around Bismarck, Detroit Lakes, Devils Lake, Fargo, Fergus Falls, Grand Forks, Lisbon, Thief River Falls, Valley City and many more communities. Hospice of the Red River Valley offers round-the-clock availability via phone, prompt response times and same-day admissions, including evenings, weekends and holidays. Contact us anytime at 800-237-4629 or hrrv.org.