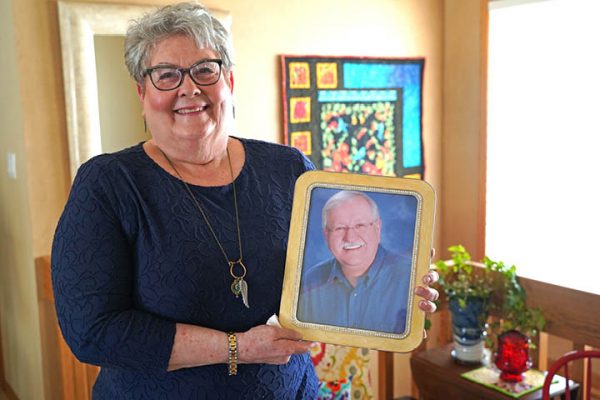 Bunnie and Mike Messelt met through unusual circumstances. Their friendship and eventual relationship developed through intense personal loss.
Bunnie first met Mike as a volunteer through the Hope Care Ministry when Mike's late wife Sheila was dying of breast cancer. Bunnie offered in-home communion to Sheila through their shared church. Bunnie was taken by Sheila's presence even in her struggles with her disease. "Sheila had the most wonderful spirit about her," Bunnie recalled.
The initial bond they sparked during their first encounter started a close friendship that continued until Sheila's passing in 2002.
Within weeks of Sheila's death, Bunnie's 48-year-old sister unexpectedly died. The loss was profound.
The raw pain of grief and their deeply personal losses forged a connection between Mike and Bunnie. They shared stories of their loved ones, offered empathy and understanding of the other's grief, and confided their hopes and dreams for the future. They attended church together and joined a Bible study. They were great friends, and as they spent more time with one another their relationship evolved and expanded.
Every little interaction together mended pieces of their broken hearts. "We started to do things together and supported each other during our grief," Bunnie shared. "We were good for each other and good together."
As they became closer, Mike and Bunnie shared with their families how close they had become through their unexpected friendship. With the blessing of their families, Mike and Bunnie began to date and married two years later. There was a sense of ease and contentment in their life. "We knew the value of life, and we enjoyed our time together," Bunnie said.
The couple shared many common interests, including NDSU Bison football, music, antiquing, long drives and visits to the northern shores of Minnesota. They were devout in their faith and devoted to their blended families that included five adult children and their spouses, and eight grandchildren.
The pair were married for more than a decade and just settling into retirement when Mike started feeling sick. Irregular bloodwork led to an MRI and ultrasound that revealed Mike had liver cancer with lesions on both sides of his liver. He was 70 years old, the cutoff age for a transplant the doctor explained. Mike learned the cancer would be terminal, even with chemotherapy and radiation treatments.
Three years of treatments took a toll on Mike. It became increasingly difficult to get into the clinic, and his immune system was run down. Mike made the decision to call Hospice of the Red River Valley for more support.
"I think part of why he chose Hospice is he knew it would also help me care for him. I'm a dig-in-and-do-it kind of person, but I was wearing out, too," Bunnie said. "Our world seemed to get smaller and smaller until Hospice stepped in."
Hospice Team Keeps World Open
Mike and Bunnie came to rely on the Hospice team that included a nurse, social worker, certified nursing assistant (CNA) and chaplain to help navigate Mike's end-of life journey. Bunnie recalled each staff member brought something special into their lives. "The Hospice team who helped us will be in my heart forever," she shared.
Hospice CNA Jerry Thronson visited twice a week to help with Mike's personal cares. During Jerry's visits, he and Mike bonded over some of their favorite things—one of which was the Norwegian dish potato klub.
Bunnie appreciated Jerry taking an interest in Mike as a person. "Jerry was so wonderful with Mike. He did everything with such grace and compassion toward Mike," Bunnie said.
The hospice registered nurses, Chelsey Pollert and Kelly Haneca, made regular visits to keep Mike comfortable and manage his pain and symptoms. Bunnie recalls they were always anticipating every need. They also thoroughly explained what was happening with Mike as the disease progressed. "The way they talked to us and the way they approached Mike was with so much care and dignity," Bunnie said.
The knowledge and availability of the staff provided Bunnie relief in knowing Mike was being well cared for, and she was no longer consumed by caregiver responsibilities.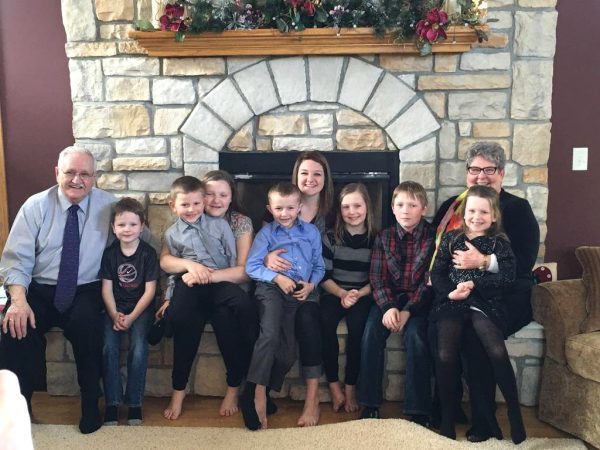 "I could be a wife to Mike, and we laughed and talked and just enjoyed each other's company," she explained. "Being home let us make more memories together. It was a gift."
Bunnie fondly recalls a time when the family hosted a kitchen tailgating party for Mike during NDSU Bison football season. Mike was an avid Bison fan, but unable to attend an upcoming game. They created a fun atmosphere at home on game day—complete with a copycat recipe of his favorite super nachos from the Fargodome. These are the memories and moments that Bunnie holds dear.
Mike's beloved family were all by his side when he peacefully died on Sept. 19, 2019, in his home.
Mike is remembered for his charismatic warmth, kindness and compassion. "He was the best hugger in the world. He had a wonderful smile and a calmness about him," Bunnie said.
She is grateful for Hospice of the Red River Valley's gentle care—symbolic of Mike's own spirit.
"We wouldn't have been able to care for Mike the way we did without Hospice," Bunnie shared. "We both looked forward to them coming. They helped to keep our world open and Mike engaged in life. We felt so much better after their visits."
About Hospice of the Red River Valley
In 1981, Hospice of the Red River Valley was founded on the belief that everyone deserves access to high-quality end-of-life care. We fulfill our nonprofit mission by providing medical, emotional, personal and spiritual care, as well as grief support to our patients, their families and caregivers during a tender time in life. Our staff helps those we serve experience more meaningful moments through exceptional hospice care, 24 hours a day, 365 days a year, wherever a patient calls home. The organization serves more than 40,000 square miles in North Dakota and Minnesota, including in and around Bismarck, Detroit Lakes, Devils Lake, Fargo, Fergus Falls, Grand Forks, Lisbon, Thief River Falls, Valley City and many more communities. Hospice of the Red River Valley offers round-the-clock availability via phone, prompt response times and same-day admissions, including evenings, weekends and holidays. Contact us anytime at 800-237-4629 or hrrv.org.