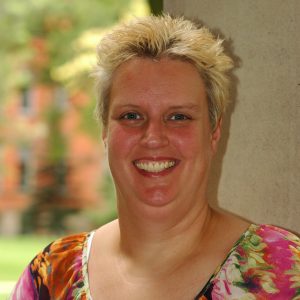 by Hilde van Gijssel
I believe in living life to its fullest, to make every day worth living. At the same time, I believe there is only one sure thing in life and that is I will die someday. I hope that day will not come for a long time. I am not afraid of dying. If I die tomorrow, I know I have lived my life well. My funeral should be a celebration, where I hope many people will have pleasant memories to share and stories to tell.
I am afraid of one thing though, dying in a hospital hooked up to machines totally outside of my control. I believe in dying with dignity. I believe we have the right to make choices about the last part of our lives. These are bold statements, and may make people uncomfortable. I apologize for that, but at the same time, this point of view is an essential part of who I am as a person and of my spirituality. This point of view influenced my decision to be a volunteer with Hospice of the Red River Valley. I believe Hospice does things the right way concerning end-of-life. Hospice puts people in control of the last phase of their lives. When my time comes, I want to be cared for by Hospice.
For me it is an honor to be involved with Hospice and a truly spiritual experience. It is an honor to be accepted into people's lives during a very emotional and difficult time. It is an honor to be part of a team making the wishes of the patient and family come true. To provide valuable care to the patients and their families is always rewarding. Interestingly, it is not the very complicated or difficult tasks I do that are most rewarding. Most of the time, doing something simple, like sitting with a person so his or her loved one can run an errand, makes my day. Or maybe grocery shopping, cleaning out the refrigerator or taking a patient's dog out for a walk. Anything that makes the life of the patient more comfortable, or less stressful, is worth it.
I started volunteering with Hospice as a patient volunteer, then soon participated as a pathway volunteer. I have also had the opportunity to be a public relations volunteer and also truly enjoyed it; it must be the teacher in me! I really enjoy educating people about Hospice and the opportunities it provides for loved ones. I hear many misconceptions about what hospice care is, so I see it as my personal mission to educate people about the true mission of Hospice. It is rewarding to see people change their minds and have a positive experience. I believe in the mission of Hospice and that is why I volunteer and hope to do so for a very long time.
If you are interested in volunteering with Hospice of the Red River Valley, or would like more information regarding volunteer opportunities, visit the website or call (800) 237-4629.
Hilde van Gijssel has been a volunteer with Hospice of the Red River Valley. Hilde is an associate professor of science at Valley City State University.
About Hospice of the Red River Valley
In 1981, Hospice of the Red River Valley was founded on the belief that everyone deserves access to high-quality end-of-life care. We fulfill our nonprofit mission by providing medical, emotional, personal and spiritual care, as well as grief support to our patients, their families and caregivers during a tender time in life. Our staff helps those we serve experience more meaningful moments through exceptional hospice care, 24 hours a day, 365 days a year, wherever a patient calls home. The organization serves more than 40,000 square miles in North Dakota and Minnesota, including in and around Bismarck, Detroit Lakes, Devils Lake, Fargo, Fergus Falls, Grand Forks, Lisbon, Thief River Falls, Valley City and many more communities. Hospice of the Red River Valley offers round-the-clock availability via phone, prompt response times and same-day admissions, including evenings, weekends and holidays. Contact us anytime at 800-237-4629 or hrrv.org.