Stewart 'Stew' Bass' legacy has taken flight. As a WWII veteran pilot, he was personally involved in sinking the Yamoto, a large Japanese aircraft carrier, which marked a turning point in WWII and earned him a Navy Cross—one of the highest honors the Navy bestows. Through sharing his experiences in aviation, Stew touched many lives in the Fargo-Moorhead community—and beyond—while preserving a piece of history.
"He was living history for WWII, telling people what it was really like," Kathy, Stew's daughter, said. "There weren't many of those people left so historians dogged his heels for the last several years to pick his brain for all these things [related to the war]. He was always very glad to do it, but he was very humble about it." So humble, indeed, that Kathy recalled he never spoke of his involvement with the war when her and her brother were growing up.
It wasn't until Stew became involved in the Fargo Air Museum that he really started sharing his knowledge about this valuable piece history. "My involvement in the Air Museum was rather natural when it opened up and got started. I said, 'Gosh, I've got to go over there and see what's going on,'" Stew described. "So I did and I volunteered immediately, and I've been there ever since. They called me the lead volunteer."
"When he started working for the Air Museum, I think he realized how important those stories could be to others," Kathy explained. "And then he started talking about his part as a pilot, and people got a hold of this information and started calling from the East Coast, the West Coast, almost everywhere. Pretty soon, he was sharing his stories, which were all new to the family."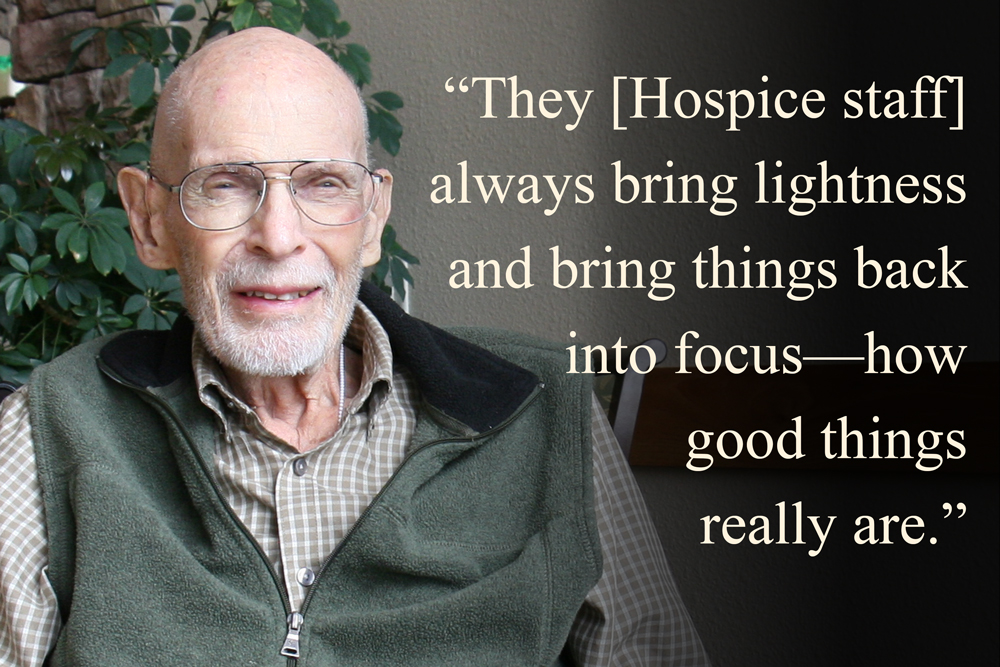 In an industry overwhelmed with acronyms and jargon, at the Fargo Air Museum Stew's sole purpose was to educate. "Nobody seemed to know what a carrier was so that's what I've been doing, telling them what a carrier is, what an air group is, what a group of planes are and so on. I have given speech after speech," Stew said. "It makes you feel better when you do something worthwhile. And I had a good time, and I enjoyed doing it."
As big as his passion for aviation, Stew's positivity, sense of humor and warm smile were always bigger. "He was always a very positive person," Kathy described. "Even when I was a little girl, he would say, 'We can do this. It'll work. Don't worry, we can fix it. Let's give it a try.' No matter what it was—even if you knew it wouldn't work."
So when Stew was faced with hospitalization after hospitalization in late 2014, his declining health, which was largely because of heart and kidney failure, slowed him down and dampened an otherwise vibrant person. Stew, along with his family, decided it was time for him to move into an assisted living facility in Fergus Falls, where he could be closer to family. Soon after, Stew began receiving care from Hospice of the Red River Valley.
At 93, Stew was used to his independence—and going, going, going all the time. "This was one of the hardest things for him, to have to be cared for. I think the Hospice nurse really helped him accept his diagnosis. Because up until then, he did not believe he was going down. I credit Courtney [Hospice nurse] for having that heart to heart talk with him. He heard her," Kathy shared. "I think Hospice made a huge difference. It was the best thing to happen. The visits and encouragement were a really important part. They [Hospice staff] were wonderful to him."
Stew couldn't have agreed more. "I have a lot of good to say about Hospice. The biggest thing is that they [Hospice staff] always bring lightness and bring things back into focus—how good things really are," Stew said. "They always get their job done well. They give that feeling of positivity and that everything's going to be all right. They're there to take care of you."
Stew especially appreciated visits from Hospice of the Red River Valley chaplain, Lauryl, as he neared the end of life. Together, they had deep conversations and discussed questions, such as 'How do you explain death? What is it? What triggers it? What stops it?' Stew found comfort in the ease of conversation with Lauryl. "She's easy to talk to," he explained. "I think she's really been able to help with some 'why' answers."
"Stew was a person of deep faith and rich life experiences, but he was also a very humble man. While on hospice, he focused on living and spending time with family; he was so proud of them all," Lauryl shared. "Stew told me he wasn't afraid of dying, but in the last couple of weeks the 'waiting' was a challenge. One day he told me, 'Dying isn't what I expected, you have to have patience, and you have to be very honest and straightforward.' Stew had those qualities; he was the kind of great man whose joy in life, gratitude for family and friends, and humble, honest faith inspired us all."
Kathy noticed after Stew's talks with Lauryl, her dad felt better. And, she felt peace of mind knowing a team of Hospice experts were caring for him. "They did a lot to help with his pain. That's the biggest deal. I knew he was being well cared for and managed, and his pain was under control; they were on top of it. If he needed anything, it was there. I felt a wonderful peace that he was cared for like we would want him to be cared for," Kathy said.
Having worked in health care as a nurse herself, Kathy knows the significance of a team effort and the importance of being kept informed. "I felt like we were a part of the team, and I felt like I was in the loop of what was going on and that was wonderful. It took the burden off the family. They were always there if he needed something. If I called the nurse, she'd get right back to me. Hospice is very well-rounded, and I think that made a big difference," Kathy shared.
Kathy's frequent visits to Stew's home in Fergus Falls, along with other family members, brightened his days. He said of his daughter with a smile, "That girl is absolutely something else. There's no daughter in the world that could be any better that what she is. I just love her."
As the days went by, Stew knew that any day he was surrounded by loved ones or Hospice of the Red River Valley, he was going to be all right. "Hospice has been so good, and I feel like they're all specialists. When they leave, I feel like, by golly, I can make it another day. I think that's one of the best things about Hospice, you have the feeling around you that they have a certain job of elevating you, and they really have you in mind and they're trying their very best."
Stew passed away peacefully, in his home, on March 23, 2015. It was Hospice of the Red River Valley's honor to care for Stew—a true hero to so many.
About Hospice of the Red River Valley
In 1981, Hospice of the Red River Valley was founded on the belief that everyone deserves access to high-quality end-of-life care. We fulfill our nonprofit mission by providing medical, emotional, personal and spiritual care, as well as grief support to our patients, their families and caregivers during a tender time in life. Our staff helps those we serve experience more meaningful moments through exceptional hospice care, 24 hours a day, 365 days a year, wherever a patient calls home. The organization serves more than 40,000 square miles in North Dakota and Minnesota, including in and around Bismarck, Detroit Lakes, Devils Lake, Fargo, Fergus Falls, Grand Forks, Lisbon, Thief River Falls, Valley City and many more communities. Hospice of the Red River Valley offers round-the-clock availability via phone, prompt response times and same-day admissions, including evenings, weekends and holidays. Contact us anytime at 800-237-4629 or hrrv.org.