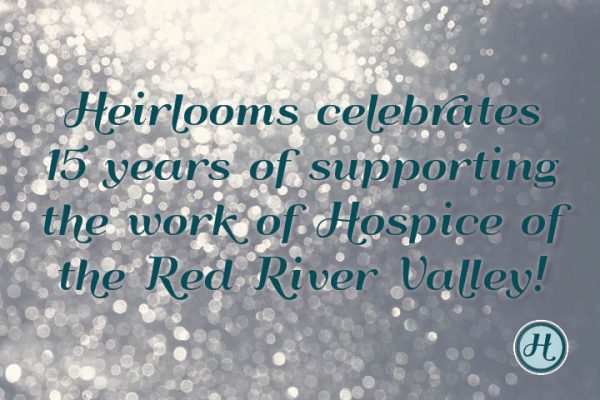 In 2002, leaders of Hospice of the Red River Valley had a bold idea. They imagined an additional revenue source to support the organization—an upscale, resale store. Months later, after countless hours of planning, uncertainty and anxiety, their dream was born. Heirlooms Thrift & Gift officially opened its doors in September 2003. Today, 15 years later, Heirlooms is flourishing as a sophisticated destination for gently used, high-quality goods. And, all proceeds support the important mission of Hospice of the Red River Valley.
Throughout the past decade and a half, Heirlooms firmly established itself in the community as a donation destination for those finer items no longer needed because of a change in family circumstances, relocation, downsizing, redecorating or remodeling.
Reaching this milestone anniversary is no small feat for the average business, and is even more remarkable for Heirlooms. Aside from a store manager and a few part-time employees, the store is entirely staffed by devoted volunteers. More than 60 individuals volunteer their time to help with sorting, preparing and pricing merchandise for sale, arranging the various store displays and assisting customers and donors.
Long-time volunteer, Ethel Wischer shares, "I was one of the first volunteers and feel privileged to be a part of Heirlooms. I always look forward to coming each week and hope I can continue to be part of the Heirlooms family for many more years."
Heirlooms is located at 3120 25th St. S. in Fargo, N.D. Store hours are Monday through Friday from 10 a.m.to 6 p.m. and Saturdays from 10 a.m. to 5 p.m. Donations are accepted during regular business hours or by appointment. For more information, stop in, call 701-356-2670, or follow us on social media: Facebook and Instagram.
About Hospice of the Red River Valley
In 1981, Hospice of the Red River Valley was founded on the belief that everyone deserves access to high-quality end-of-life care. We fulfill our nonprofit mission by providing medical, emotional, personal and spiritual care, as well as grief support to our patients, their families and caregivers during a tender time in life. Our staff helps those we serve experience more meaningful moments through exceptional hospice care, 24 hours a day, 365 days a year, wherever a patient calls home. The organization serves more than 40,000 square miles in North Dakota and Minnesota, including in and around Bismarck, Detroit Lakes, Devils Lake, Fargo, Fergus Falls, Grand Forks, Lisbon, Thief River Falls, Valley City and many more communities. Hospice of the Red River Valley offers round-the-clock availability via phone, prompt response times and same-day admissions, including evenings, weekends and holidays. Contact us anytime at 800-237-4629 or hrrv.org.