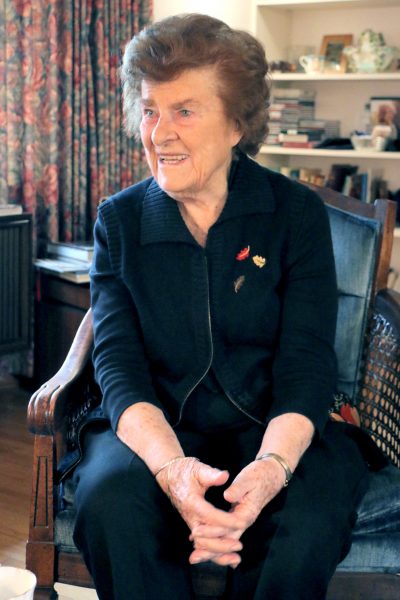 In the quaint village of Quinton, a suburb of Birmingham, England, Joy Query grew up as one of three children in a socially conscious, well-educated family. The focus on health and welfare of their fellow countrymen was an important family value passed down from generation to generation, beginning with Joy's grandfather who was a physician and many other family members who were also involved in the medical field.
Being surrounded by her family's belief system impacted Joy's interests, so much so, she shifted the focus of her studies from English literature to medical sociology. "My sister was a sociologist, and I read the books she always had lounging around the house," Joy said. "In England, you don't have textbooks; you read the original books—the real work—and it fascinated me."
Joy's educational path led her to the University of Syracuse in New York, where she became concerned with hospice care and dying as she worked toward her PhD. "I get very engaged with something that interests me, and I feel very strongly about the way we handle both birth and death. I've always felt strongly that you should live until you die," Joy said. While in graduate school, Joy met her husband and started a family, transferring to the University of Kentucky to finish her PhD and later attending Yale University on a scholarship for her post-doctoral.
After completing her education, Joy and her husband lived in Lexington, K.Y., for 10 years. Later they made their home in Fargo, N.D., where Joy put her love of learning and social issues into practice by teaching in the sociology department at North Dakota State University (NDSU) and the medical school at the University of North Dakota.
While teaching a medical sociology class at NDSU, Joy discussed how death was treated medically in America and some of the social issues and attitudes that accompany dying. One day after a lecture, Edie Herbst, an adult student in Joy's class, visited her office and shared that she had a friend who was dying of cancer, and she was having difficulty processing it.
"Edie said, 'I wish we had a hospice.' I kind of let it pass at that time," Joy explained. "But I grew to know Edie, and I liked her very well. She came in again another day very distraught when her friend became more ill. She said again, 'Oh, I wish we had a hospice.' And, we looked at each other as if we were both almost saying, 'Why not!'"
Sparked from a simple, "Why not," Joy and Edie embarked on the adventure of a lifetime and began building the foundation to establish the first local hospice organization in North Dakota, Hospice of the Red River Valley, which would eventually serve 29 counties in Minnesota and North Dakota.
Taking on such an endeavor was quite the undertaking as neither woman was native to this country and hospice was still an unfamiliar concept of care in the United States. But these facts did not deter the women from embracing their dream to provide compassionate end-of-life care for the dying. "I didn't find it difficult because I felt so sure of what we were doing," Joy said.
Before they began, Joy felt she needed a better grasp about how a hospice operates. So she arranged for a trip to her home country to spend a week visiting with Dr. Dame Cicely Saunders, the woman who started the modern-day hospice movement, at St. Christopher's Hospice in South London, England.
Dr. Saunders believed people were on a life-long journey, of which dying was one part, and that this part of the journey should be positive. She put forth the radical idea that everyone should live until they die by establishing a "place" for the dying, which was St. Christopher's—the first modern-day hospice. "People were very ashamed of what they considered failure, and death is a sort of failure. Disenfranchised with how her patients were received when they were dying, Cicely Saunders was determined to do something about it. She was a remarkable woman who felt it was very necessary for people to enjoy life as long as they could," Joy shared. "I had a very interesting time at St. Christopher's; I met people who were dying and also having very good care. Patients could come and go as they pleased; it was very unusual medical care for that time."
Joy returned to Fargo following her visit to St. Christopher's, and for three years, she and Edie focused on educating the community about the concept of hospice care. The pair began regularly speaking about hospice care anywhere they could, including parent-teacher associations, rotary and masonic meetings. They also scheduled one-on-one appointments with business professionals who could potentially help bring the mission to realization, including lawyers, state representatives, physicians and more.
"The problem with starting something new is that people are nervous about losing control of their field. You come in with a strange idea of hospice care, and people find it a difficult idea. We chose who we talked with carefully; the physicians we approached were very compassionate and open minded. We also didn't rush into a facility and tell them how to organize themselves, but we did talk about new ideas. We were careful not to hurry this process," Joy said. "We just approached people and asked them for help, and we had wonderful support in the community."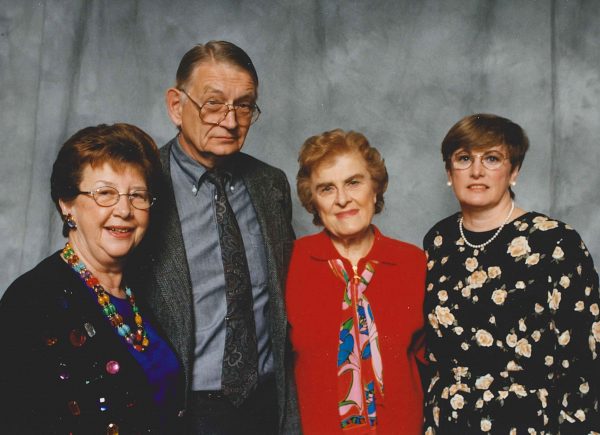 After years of garnering support, raising funds and assembling a board of directors, Hospice of the Red River Valley served its first patient in 1981. "We were very, very excited because it felt like we had won the battle, as it were. It was absolutely wonderful," Joy recalled. In the beginning stages, the organization functioned out of a one-room space generously donated by Lutheran Social Services, with just one nurse employed to fulfill the medical needs of patients. Additionally, many community members served the organization in a volunteer capacity providing their expertise free of charge.
Volunteers were made up of representatives from every local hospital (Maurice Mahly, Dr. Robert Tight and Dr. Ralph Levitt), lawyers (John Boulger and Justice Beryl Levine), pastoral care (Art Johnson) and fiscal support (Stern family), among countless others. "If it weren't for all the support and help of like-minded professionals in the early years, establishing the organization would not have happened," Joy shared.
Just two years after serving its first patient, Hospice of the Red River Valley became the first Medicare-certified hospice west of the Mississippi River. "We worked very hard to make sure we would be covered by Medicare and Medicaid, Joy said. "It was absolutely imperative for us." Today, Hospice of the Red River Valley is thriving, serving an average of 287 patients daily and more than 1,500 annually throughout 33,000 square miles of the Red River Valley with a mission still focused on comfort, dignity and respect.
Joy's passion for hospice care is still evident, even at 91 years old. What began as a "why not" has blossomed into a robust nonprofit organization with more than 200 like-minded professional staff and 350 volunteers. More importantly, the agency's mission to provide comfort at the end of life's journeying continues to fulfill a vital need in our communities. And for that, we have our early visionaries and supporters to thank.
About Hospice of the Red River Valley
In 1981, Hospice of the Red River Valley was founded on the belief that everyone deserves access to high-quality end-of-life care. We fulfill our nonprofit mission by providing medical, emotional, personal and spiritual care, as well as grief support to our patients, their families and caregivers during a tender time in life. Our staff helps those we serve experience more meaningful moments through exceptional hospice care, 24 hours a day, 365 days a year, wherever a patient calls home. The organization serves more than 40,000 square miles in North Dakota and Minnesota, including in and around Bismarck, Detroit Lakes, Devils Lake, Fargo, Fergus Falls, Grand Forks, Lisbon, Thief River Falls, Valley City and many more communities. Hospice of the Red River Valley offers round-the-clock availability via phone, prompt response times and same-day admissions, including evenings, weekends and holidays. Contact us anytime at 800-237-4629 or hrrv.org.