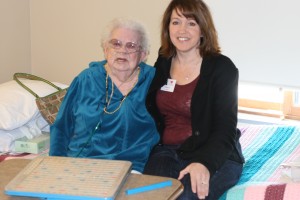 By Cheryl Melbye
Hospice of the Red River Valley has had a special place in my heart for years, as I've listened to countless stories of lives that have been touched through the care and comfort of this special organization. And as a person who became acquainted with grief at a young age, with the death of my oldest brother, I have been impressed with the spiritual care and bereavement support that Hospice provides to grieving families.
As my long-anticipated final semester before completion of my degree in human development and family science arrived, I did not hesitate to seek an internship experience at Hospice of the Red River Valley. Now, as a volunteer and intern, I am gaining the desired experience of providing needed support to patients and their families along with a stronger general knowledge of hospice care.
After completing the volunteer training session in December, I was grateful for the opportunity to immediately be given the name of Clarice "Patsy" Jones at the Villa Maria Care Center in Fargo as the patient I would be matched with. After introducing myself to Patsy at our first visit, we had a nice chat and made plans to play Scrabble together weekly. After a few visits, I came to discover that Patsy had previously lived in my hometown of Detroit Lakes, Minnesota.
As we began to share in her memories of those years, we were delighted to realize that she had played cards with my grandmother, Eva, for several years during the late 1970s. I learned that they had several mutual friends who gathered on a weekly basis to play cards or celebrate a birthday.
"It was a competition," says Patsy, "a friendly competition, to really see who had the best new recipe." It has been a blessing to have this connection with Patsy and quickly become friends. Just as my dear Grandma Eva was, she's sharp when it comes to playing games, and is usually three words ahead of me in Scrabble.  While our friendship is new, and indefinite, I am thankful to Hospice that my life has been unforgettably enriched by my time spent being with Patsy.
Cheryl Melbye is a soon-to-be graduate from NDSU with a bachelor's degree in human development and family science. In addition to spending her time as a volunteer and intern serving Hospice, she also enjoys spending time with her husband and family.