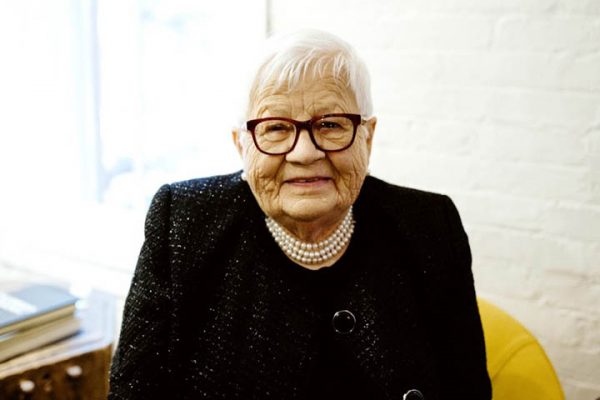 Gladys Carlson always took great care and pride in her hands. She loved well-manicured hands—nails polished with the perfect shade of pink. Her hands were her constant confidants and the means to accomplish her favorite pastimes that included cooking, baking, playing bingo and dancing. And most importantly, they were her source of comfort and connection.
Hands can speak for us when we can't muster up words. They tell the stories of our lives—moments marked by joy, sorrow, hard work and so much more. They offer a gentle touch, a reassuring pat, a much-needed embrace. It's hands that guide our birth, and they are often the last touch we hold on to when we die.
A Life Shaped by Adversity
Gladys was born in a three-room farmhouse on a family farmstead in rural Gordonsville, Minn., 15 miles southwest of Albert Lea. She was delivered by her grandmother, Margit—whose sage hands cradled her entrance into this world on a cold winter day in January 1927.
Gladys and her family soon relocated to an Osage, Minn., dairy farm. She grew up working countless long hours alongside her family. The Great Depression made already challenging farm life more difficult.
They worked the land by hand and used horses to raise crops of oats, wheat, hay and corn. The family also tended to many farm animals, including chickens and cows—whose fruits of eggs, cream and milk—provided the main foundation of their livelihood.
Gladys' life was shaped by the hardships of that trying time—and the love that carried her family through.
A Family Focus
Gladys met her husband, Norman "Smokey" Carlson while waitressing at the Log Cabin Cafe in Park Rapids, Minn. It was in that diner where their loved first percolated over hotcakes and hotdish. Gladys served Smokey many meals, and he complimented her beauty and the delicious food. Eventually they dated, and he asked for her hand in marriage.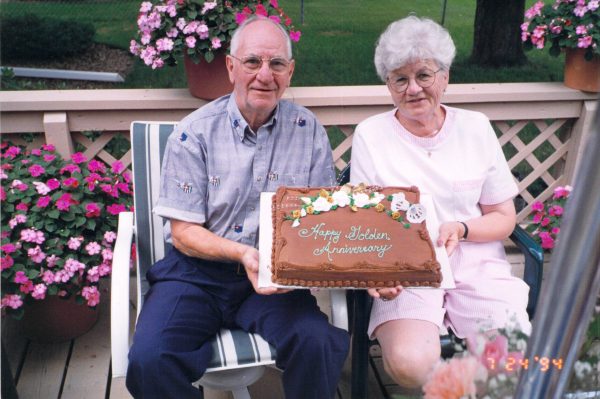 The pair made their home in Fergus Falls, Minn., where they owned and operated Smokey's Machine Shop, a small engine repair shop. Gladys managed the business side of the shop while Smokey handled the repairs. In their home life, they enjoyed dancing—lovingly, hand in hand—the polka, waltz and two-step. It kept their marriage fun and interesting.
The savory aromas of Gladys' favorite recipes, cheeseburger soup and Norwegian potato klub, could often be noticed upon entering their home. "When Grandma knew family was coming for a visit, she prepared that person's favorite dish," recalled Erin Hagen, their granddaughter and Hospice of the Red River Valley employee. "She made every meal feel special."
The Carlsons raised six children and spent 52 years together until Smokey's passing in 1996. Their family grew sizably to include 12 grandchildren and 23 great-grandchildren—all of whom were especially adored by Grandma Gladys.
A Special Bond
Erin grew particularly close to her grandma after her grandpa died. "My Grandma Gladys was such a special lady to me. We were two peas in a pod and had so much in common," Erin shared. "Growing up, I stayed with her during the summer and tagged along to all her activities: dinner with her widow support group and her Red Hat Club, games of dominoes with the neighborhood ladies and so many more things."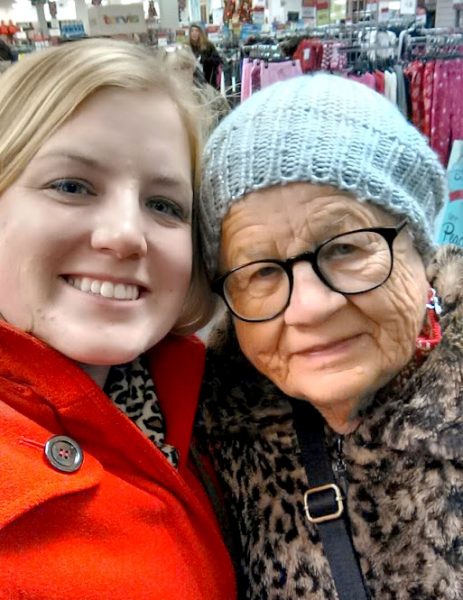 They also loved attending local art and craft fairs together in Phelps Mill, Pelican Rapids and Little Falls, Minn. Gladys and Erin shared a mutual love of musicals, which turned into a collection of unforgettable trips and memories attending a myriad Broadway shows in New York.
"My grandma was truly a remarkable woman," Erin said. "She was always someone you could go to for advice and love without judgement."
Extra Helping Hands
Gladys lived with dementia, lupus and asthma. Even so, she accepted the changes and the challenges in front of her. "Life was not always easy for her, but she was always calm and carried on with class, grace and quick wit," Erin said. When living alone became too much for her, she made her new home at a senior living community in Fergus Falls, Minn. Gladys appreciated the extra assistance and fellowship of the staff and residents.
In 2020, her struggles with asthma caused several bouts with pneumonia, resulting in multiple emergency room visits and two hospital stays. Her health struggles were further amplified by visitor restrictions because of the COVID-19 pandemic. Gladys' family noticed a significant decline in her health and decided it was time to welcome Hospice of the Red River Valley into her life for extra support. Hospice staff provided an added layer of care in addition to the staff of the LB Broen Home in Fergus Falls, where Gladys resided for three years.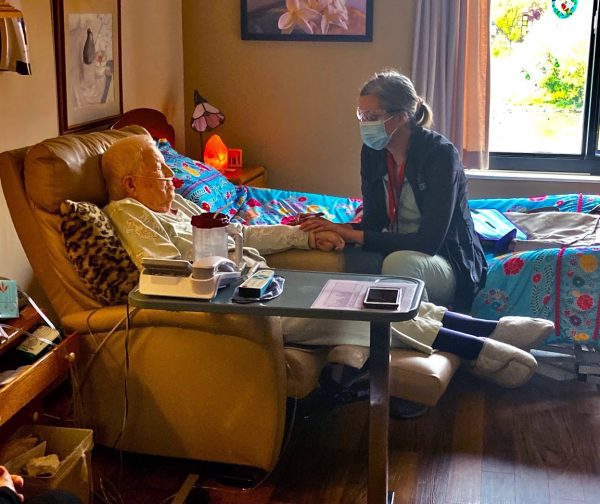 Unable to be with her grandma regularly, Erin cherished the special attention the Hospice care team gave her Grandma on her behalf. "Prior to COVID-19, I saw my grandma every weekend. With COVID-19 restrictions, I couldn't physically be with her," she said. "Knowing that the [Hospice] staff were able to be there for her and to check on her gave us so much peace of mind."
The family received frequent communication from the Hospice of the Red River Valley team: Hospice nurse Elizabeth and Hospice social worker Andrea about how Gladys was doing, and Brett , the Hospice chaplain, about how she responded to their conversation. Faith was ever present in Gladys' life, so her family was appreciative of this special aspect of the care.
"I don't know what we would have done without Hospice. The staff were angels. I feel it to my core! Not only did Hospice staff care for Grandma, but they also helped our family immensely," Erin explained.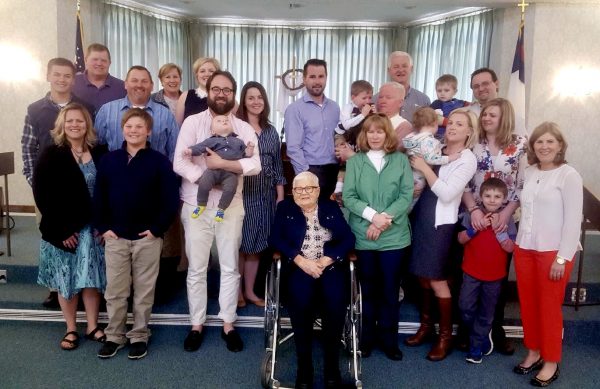 Hospice of the Red River Valley staff member Lois was Gladys' certified nursing assistant (CNA) who typically made three visits every week. She spent extra time with Gladys when her family couldn't be there because of the restrictions—paying particular attention to her cherished hands and feet through massage. "At my request, Lois even added a special essential oil that I had purchased for Grandma. I could not be there to do this act of love for Grandma, but Lois did," Erin said. "She was there for her when I could not be. How do you repay that?"
"The special bond Gladys shared with her family was so apparent. She was loved deeply by them. It was an honor to care for her on their behalf," Lois said. Lois also recalled how Gladys would light up when she talked about Erin. "She always had a twinkle in her eye when Erin's name was mentioned," she said.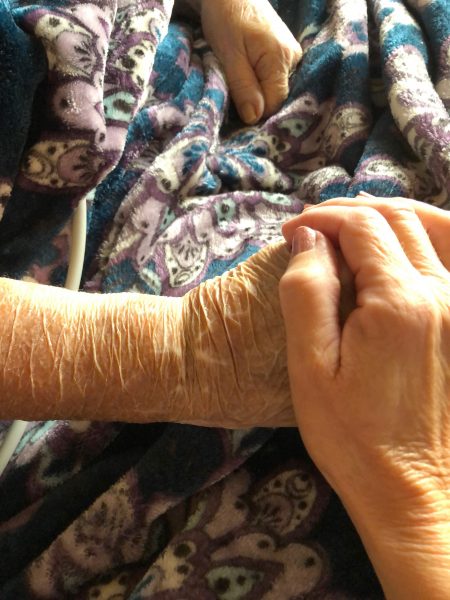 With her hands gently lying by her side, Gladys passed away peacefully at the age of 93. Her work, their work was done. Gladys had given so freely of herself to others, and her time to rest had come.
"Above all else, I will remember most how much she loved her family and friends. She always made those around her feel welcomed, loved and cherished," Erin said. "And, in the time she was under hospice care, the Hospice staff did the same for our family."
Erin believed the love and care her grandma and family received through Hospice is immeasurable. "I'm extremely grateful for Hospice of the Red River Valley," she said.
About Hospice of the Red River Valley
In 1981, Hospice of the Red River Valley was founded on the belief that everyone deserves access to high-quality end-of-life care. We fulfill our nonprofit mission by providing medical, emotional, personal and spiritual care, as well as grief support to our patients, their families and caregivers during a tender time in life. Our staff helps those we serve experience more meaningful moments through exceptional hospice care, 24 hours a day, 365 days a year, wherever a patient calls home. The organization serves more than 40,000 square miles in North Dakota and Minnesota, including in and around Bismarck, Detroit Lakes, Devils Lake, Fargo, Fergus Falls, Grand Forks, Lisbon, Thief River Falls, Valley City and many more communities. Hospice of the Red River Valley offers round-the-clock availability via phone, prompt response times and same-day admissions, including evenings, weekends and holidays. Contact us anytime at 800-237-4629 or hrrv.org.