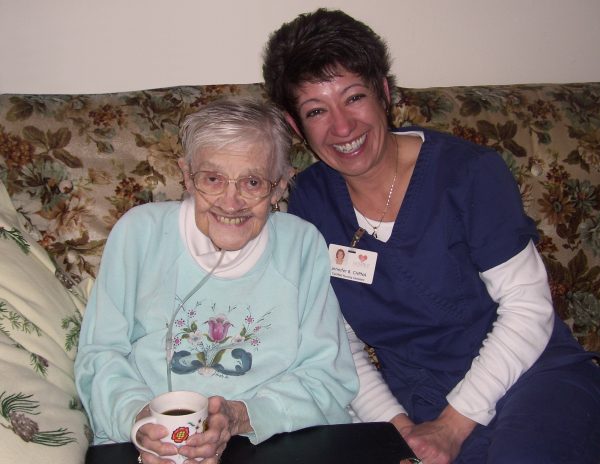 Mark Twain once said, "Praise is well, compliment is well, but affection—that is the last and final and most precious reward that any man can win, whether by character or achievement." Certified Nursing Assistant (CNA) Jenny, at Hospice of the Red River Valley, has earned that ultimate prize—affection—from our patient, Caroline.
At age 89, Caroline was accustomed to taking care of things herself or with the help of her husband, who recently passed away. In October 2013, Caroline began receiving hospice care, and ever since then, she's received not only exceptional care through Jenny, but has also found a friend. "I call her my Jenny," Caroline explained. "She has a real spark of life in her. She has a full plate besides me, but you wouldn't know it when she's taking care of me."
Jenny provides Caroline with basic cares, such as bathing and hair washing, but she also is careful to leave a little time for special things like painting Caroline's nails or chatting over a cup of coffee. "It's the extra small things that add up for someone," Jenny said. "I so enjoy the time I spend with Caroline." Jenny has worked as a CNA with Hospice of the Red River Valley for five years and has formed a real bond with pleasant, easygoing Caroline. "Patients like Caroline make my work so much easier," Jenny explained.
Anyone who has spent a little time with Caroline and Jenny together can see it—the undeniable connection the two share, building such a rapport with one another, it's like they've known each other for years."I have up and down days, but she's given me such wonderful help," Caroline said. "Jenny's my right arm, and I couldn't survive without her."
The cares Jenny provides are precious to Caroline, just as the entire hospice experience has been for her. Caroline said hospice care is more than she expected. "Hospice takes a real interest in you," she described. "I've had people just stop in on their way to visit someone else, and I think it's so nice Hospice takes the time to do that. You know you're in good hands," Caroline said.
In addition to "her" Jenny's help, Caroline's oldest son, David, also provides support. "He usually has coffee and a sandwich out for me," Caroline said. "He's helped me so much." David is one of four children—three sons and one daughter—Caroline raised in the house she and David now reside in.
"I just love it when my Jenny comes to visit," Caroline said with a smile. "She's the best, and I look forward to it."
About Hospice of the Red River Valley
In 1981, Hospice of the Red River Valley was founded on the belief that everyone deserves access to high-quality end-of-life care. We fulfill our nonprofit mission by providing medical, emotional, personal and spiritual care, as well as grief support to our patients, their families and caregivers during a tender time in life. Our staff helps those we serve experience more meaningful moments through exceptional hospice care, 24 hours a day, 365 days a year, wherever a patient calls home. The organization serves more than 40,000 square miles in North Dakota and Minnesota, including in and around Bismarck, Detroit Lakes, Devils Lake, Fargo, Fergus Falls, Grand Forks, Lisbon, Thief River Falls, Valley City and many more communities. Hospice of the Red River Valley offers round-the-clock availability via phone, prompt response times and same-day admissions, including evenings, weekends and holidays. Contact us anytime at 800-237-4629 or hrrv.org.