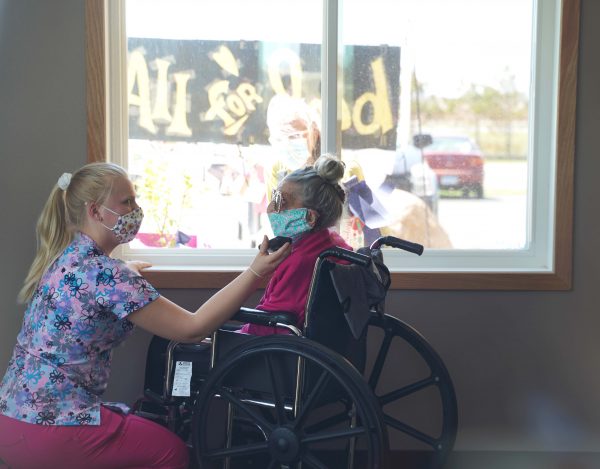 Joy is not canceled. Kindness is not canceled. And most of all, life is not canceled. COVID-19 may have forced extra precautions, changed our routines and altered our plans, but the virus cannot prevent the human spirit from enduring—even thriving.
No one can speak better to the trials and tribulations of life than those who are older than us. At 102, Margaret Lane, Hospice of the Red River Valley patient, is one such lady. She experienced a lifetime of adventure, full of grit, courage and gusto. Born in 1918 while the Spanish flu pandemic consumed the United States, she is one of the few who can say she's twice lived through what is widely considered unprecedented. The uncertainties of her birth year set the tone from her earliest days for the rich life she would lead.
Margaret recently celebrated her second golden birthday on May 2, 2020, amid the COVID-19 pandemic.
Her niece and primary caregiver, Kathy Okland, was determined to find a way to infuse joy into her aunt's special day.
"We can still find joy through this," Kathy said.
From Bowbells to Hollywood
Margaret was born in Bowbells, N.D., into a farming family. She was destined to transplant her rural roots to the big city. Margaret set her sights on the west coast, which is where she spent most of her life.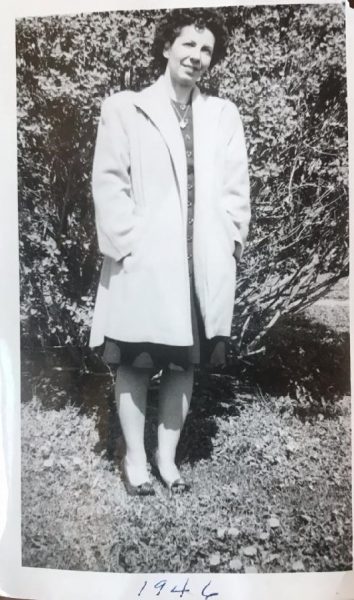 As a young adult, she set off for Seattle, Wash., where she blazed her own trail as a mechanic at Boeing Aircraft. Her job was to build escape hatches for B-17 aircrafts. The B-17, nicknamed "The Flying Fortress," was the primary bomber aircraft used by the United States Army Air Corps in World War II because of its sheer size, speed and arterial capabilities.
Margaret later moved to Douglas, Ariz., where she worked at the famous Gadsden Hotel. The hotel was often used as the set for western movies, and Margaret's position entailed serving meals to the cast and crew of the many movies filmed there.
While in Douglas, Margaret met Bradford, the man who became her husband. They married at the Wee Kirk O' The Heather Wedding Chapel in Las Vegas, Nev., the first wedding chapel in Las Vegas. She was 36 years old, and she recalls this as the happiest day of her life. The couple then made their home in Hollywood, Calif.
"Margaret had many loves in her life beyond travel and her family," Kathy shared.
A Milestone Worth Celebrating
Having returned to her Midwest roots, Margaret now lives at Hadley House, an assisted living facility in Perham, Minn. Because of the pandemic, Hadley House had to take extra precautionary measures to ensure the safety of their residents and staff, which included restricting visitors from the building.
Margaret's few remaining living family members, namely Kathy and her husband, Dirk, and their adult children and grandchild, wanted to find a way to still celebrate Margaret's birthday. Plans for a traditional birthday party were no longer possible. Kathy enlisted ideas and help from Hadley House and Hospice of the Red River Valley staff, who had been caring for Margaret for years.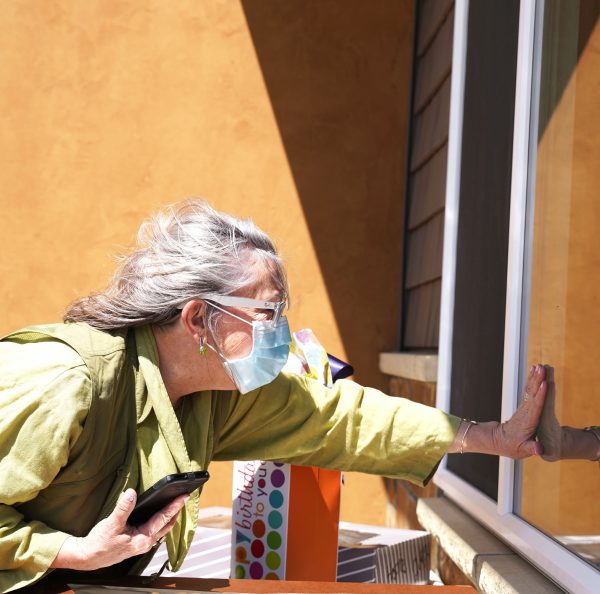 Kathy talked with Margaret's long-time Hospice social worker, Traci Elshaug, about doing something special for Margaret's birthday. Traci's role is to provide emotional support to both Margaret and her family.
"I have been Margaret's social worker since she was admitted to hospice care. Since March, I've missed spending time with her, but I have kept in contact with Kathy and Hadley House for updates on how Margaret has been doing," Traci shared. "Kathy is so kind and helpful and a great advocate for Margaret. She always helps Margaret in any way she can."
With ideas and encouragement, Kathy planned a socially distant 102nd birthday party outside of Margaret's window at Hadley House, all in accordance with the facility's necessary rules and the CDC's recommendations for safety.
"Amidst the current circumstances, we're trying to create ways to extend acts of kindness and celebrate milestones," Kathy shared. "There are ways to celebrate, despite distance and precautions. There is still joy."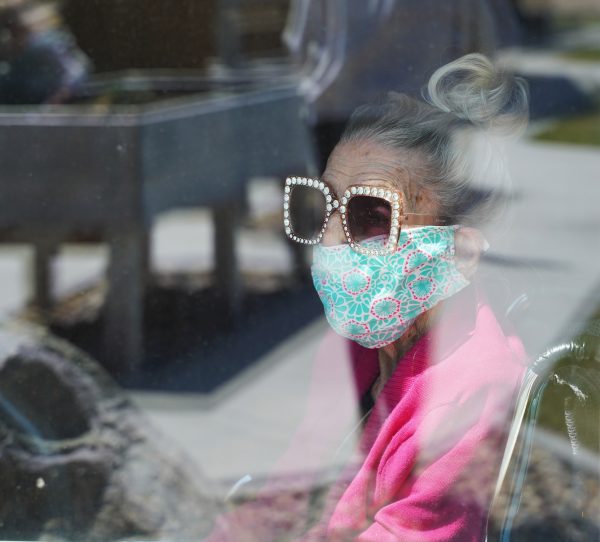 On the morning of May 2, Hadley House staff pampered Margaret ahead of the party. Margaret's hair was styled into a braid and "messy" bun, the perfect shade of pink lipstick brightened her lips. She was dressed in a gorgeous shade of hot pink, her signature "Hollywood" rhinestone glasses and pink and black socks appropriately emblazoned with the phrase, "girls never quit."
"Margaret was always a woman of style and substance," Kathy commented.
"She looked so beautiful," Traci added. "She receives such great care by all the staff at the Hadley House."
With her usual dose of wit and wisdom, Margaret shared, "An old girl needs a comb, lipstick and a pair of glasses so when a good-looking man walks by, you won't miss it! Chocolate, bacon and Jack Daniels work, too!"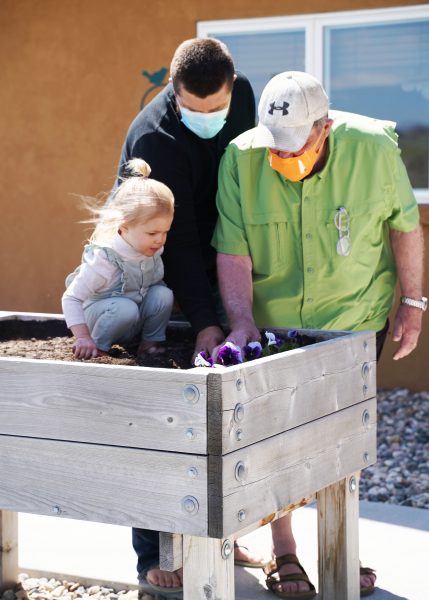 Kathy, Dirk, and their son Elliot and his family, gathered outside of Margaret's window at Hadley House. A few Hospice of the Red River Valley staff, including Traci, and Margaret's longtime Hospice companionship volunteer Rhonda, were also there. Margaret's great-great-niece even joined the party and blew kisses through the window. At two-years-old, she is 100 years younger than Margaret, but still longed to give her a hug and be near her.
Margaret's beloved Certified Nursing Assistant, Sheena, from Hadley House, held a phone to Margaret's ear so she could better hear the celebration happening in her honor on the other side of the window. All were careful to follow social distancing recommendations. Even though the celebration had to be small in size, the affection for Margaret was large and heartfelt.
Kathy collected 110 birthday cards from friends, family and others, with well-wishes, birthday blessings and responses to the question, "What would you do at 102?" The cards were arranged into a flowing garland and anchored below a banner that proclaimed Margaret's recent motto, "All for good."
Margaret is known for her love of chocolate, so it was only appropriate that 102 chocolate cupcakes with buttercream frosting were donated by a local grocery store bakery in her honor.
"Margaret had a wonderful birthday party. It was nice to celebrate during such a difficult time and see Kathy and her family be able to visit with Margaret by phone while looking through the window at one another. They've been physically distanced since March, not socially," Traci shared. "It was fun to hear Margaret joke around with her family."
Margaret looked content and full of joy. She pressed her hand to the window where her family lovingly held theirs on the opposite side. All who gathered, inside and outside, sang Happy Birthday.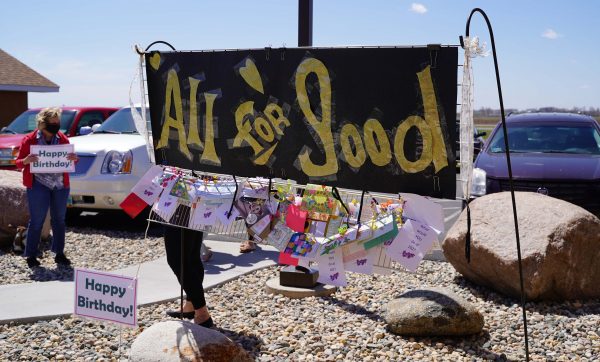 "When you have a community of people who care extend acts of kindness, it's beautiful," Kathy shared. "I know Margaret believes that beauty heals. She always surrounded herself with beauty. As an artist in her own right, she landscaped, upholstered, decorated, sewed, gardened … all with savvy and style. It was our effort to create a piece of beauty for Margaret's birthday by being together, even though we were at times apart, to make a celebration happen. That's what this is all about."
Kathy is grateful for the "community" that surrounds Margaret. "This celebration would not have been possible without Hadley House and Hospice of the Red River Valley, and many family and friends." Kathy said. "The separation and not knowing what Margaret was thinking, or sometimes saying, was hard. But, we need to keep seeking ways to care for each other during this time and unusual constraints."
This time also reminded Kathy of the value of hospice care—to enrich a person's life, each day, up until the last. "Hospice is about living, not dying. Hospice of the Red River Valley was extraordinarily supportive," Kathy added.
For Margaret and her family, they are finding joy in this tender journey, together, for no distance can truly keep them apart.
About Hospice of the Red River Valley
In 1981, Hospice of the Red River Valley was founded on the belief that everyone deserves access to high-quality end-of-life care. We fulfill our nonprofit mission by providing medical, emotional, personal and spiritual care, as well as grief support to our patients, their families and caregivers during a tender time in life. Our staff helps those we serve experience more meaningful moments through exceptional hospice care, 24 hours a day, 365 days a year, wherever a patient calls home. The organization serves more than 40,000 square miles in North Dakota and Minnesota, including in and around Bismarck, Detroit Lakes, Devils Lake, Fargo, Fergus Falls, Grand Forks, Lisbon, Thief River Falls, Valley City and many more communities. Hospice of the Red River Valley offers round-the-clock availability via phone, prompt response times and same-day admissions, including evenings, weekends and holidays. Contact us anytime at 800-237-4629 or hrrv.org.