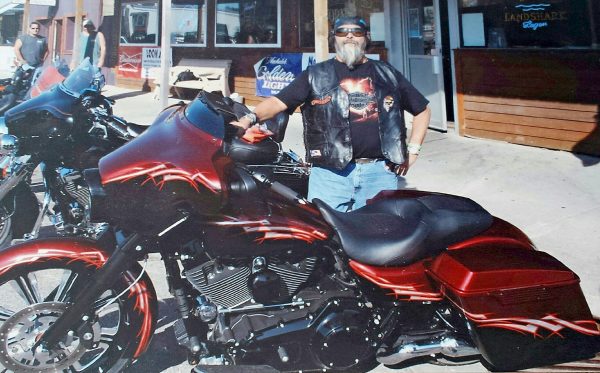 Described by many as "larger than life" both in stature and spirit, Richard 'Ole' Barten was straight-forward, soft-hearted and full of integrity. He reveled in nature and outdoor spaces; he enjoyed traditional Minnesota pastimes, like bow hunting and motorcycle riding.
His life was steeped in Native American traditions, faith, a decades-long career with the railroad, and most importantly, family values he shared with his wife Kris and daughters Jessica and Tawn. "He was so giving; he would have helped anybody," Kris recalled. "Ole believed in karma, so if Jess or I were stranded and needed help, he knew someone would stop because he was always doing the same for others."
Karma came back to Ole tenfold when the community of Vergas, Minn., collectively pitched in to support him and his family when he faced stage 4 colon cancer. With only 300 residents, everyone knows one another and a tender heart such as Ole's stood out.
Shortly after Ole was diagnosed with cancer, Ole and Kris celebrated their 25th wedding anniversary. It was always a dream of the couple to buy motorcycles and spend time on the open road together after retirement. Given Ole's health condition, this dream felt out of reach.
For their special day, Jessica planned to throw her parents an anniversary celebration. Along with the invitation, she included a letter explaining Ole's recent diagnosis and her hope to be able to raise enough money to purchase him a motorcycle again.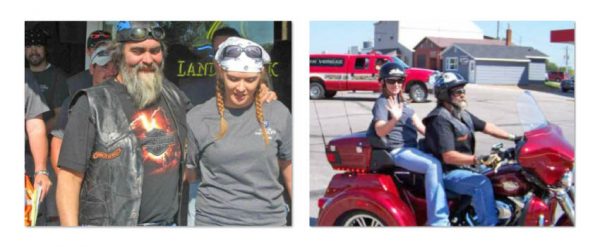 The plan was to surprise him with the new bike at the party. "I was not even thinking it would be close to possible, but we ended up raising enough money in four months to buy him a brand new Honda Shadow. Not one person gave a lot of money; it was small amounts by a lot of people. To say the community of Vergas is a family is an understatement. Who would ever have thought something like that was possible?" Jessica said.
Ole was simply overwhelmed when they removed his blindfold to reveal the brand new, shiny bike. "He was very emotional," Kris said with a smile. "Everyone was screaming and carrying on. That moment is frozen in time."
Throughout the next six months, Ole's health continued to decline and community members planned to host a benefit for him. A friend of the family called Kris before the event and said a benefit was great, but she felt they should do something more like Ole, like a motorcycle ride.
"We ended up calling it Ole's Ride because we planned to ride the same route Ole would take every weekend on his bike," Kris shared. The week of the ride Ole wasn't feeling well because he had a tough chemotherapy treatment and he wasn't feeling confident about his balance to ride on his bike. A few close family friends rented Ole a brand new Harley Davidson trike so he could take the maiden voyage on the inaugural Ole's Ride. Making this time even sweeter was that Jessica was able accompany her dad on the trike during the ride.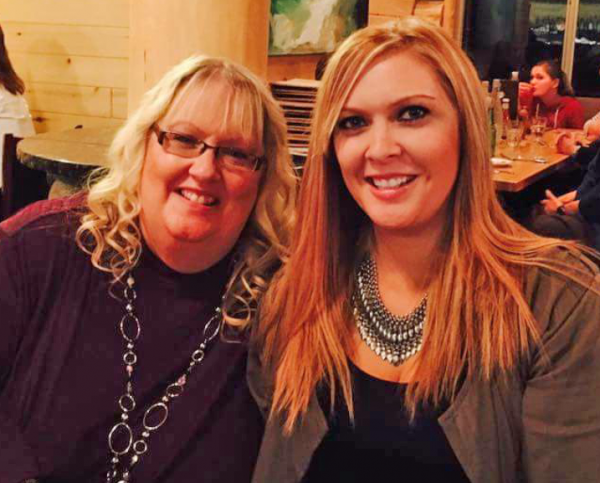 What started out as a way to support the Barten family has flourished into a beautiful tribute to a man who was, and still is, beloved by so many. For the past seven years, organizers of Ole's Ride, now led by Kris, Jessica and her husband Tyson Sonnenberg and family friend Justin Helmke, have poured their hearts into organizing this annual fundraising event for Hospice of the Red River Valley, raising nearly $153,000.
Countless members of the Vergas community have joined the efforts to make Ole's Ride a memorable and meaningful event to honor Ole's legacy and raise money for an organization who has helped so many in their community. Hospice of the Red River Valley cared for Ole during his last month and a half, and the family wanted to use the event as a way to give back to an organization that cares for so many families in the area.
Although Ole's time on hospice care was short, the experience was essential in honoring Ole's final wishes and left a lasting impression on Kris and Jessica.
"He never wanted to be stuck in the hospital. I remember the first meeting we had with Hospice in our home, and we sat down and talked about what to expect, what we wanted, what they could give us," Kris explained. "Before we talked, I had such a bad attitude because I didn't want to believe this was the end of the road for Ole. My attitude melted away once we met. Hospice staff made it so simple to talk and to say what we wanted. Hospice gave me the peace I needed to let him go. I fought it for so long because I thought if I loved him enough, I could save him. I just can't say enough about the staff. I love Hospice!"
"I appreciated that they let mom decide what she could handle and what she couldn't. They were never pushy about anything, and they taught her how to do things," Jessica said. During conversations with Hospice staff, Ole opened up and shared his thoughts and feelings about his final journey.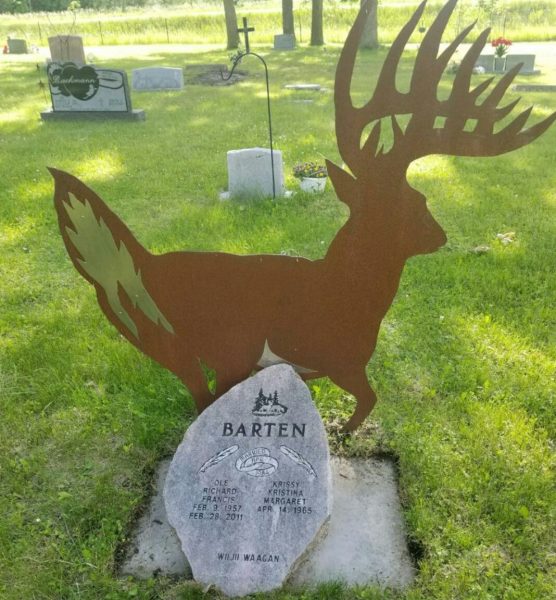 Ultimately those interactions helped him plan ahead for his final wishes, including selecting a long bow that he would be buried with him, a granite rock that would serve as a headstone and the details of his service. "The end was what it was supposed to be, and I feel good about it," Kris said.
"We are here for Hospice and to keep Ole's memory alive. There are so many people who don't have the money and need the care and want to be at home," Kris shared. "This is one of the reasons the money from the ride goes to Hospice. Without Hospice I wouldn't have the peace I have about him dying. We can't say enough about Hospice. We will do the Ride as long as we are standing." And Kris knows for certain, they can count on the wonderful community of Vergas to keep supporting them.
The 12th annual Ole's Ride will be held on Aug. 21, 2021. Learn more.
About Hospice of the Red River Valley
In 1981, Hospice of the Red River Valley was founded on the belief that everyone deserves access to high-quality end-of-life care. We fulfill our nonprofit mission by providing medical, emotional, personal and spiritual care, as well as grief support to our patients, their families and caregivers during a tender time in life. Our staff helps those we serve experience more meaningful moments through exceptional hospice care, 24 hours a day, 365 days a year, wherever a patient calls home. The organization serves more than 40,000 square miles in North Dakota and Minnesota, including in and around Bismarck, Detroit Lakes, Devils Lake, Fargo, Fergus Falls, Grand Forks, Lisbon, Thief River Falls, Valley City and many more communities. Hospice of the Red River Valley offers round-the-clock availability via phone, prompt response times and same-day admissions, including evenings, weekends and holidays. Contact us anytime at 800-237-4629 or hrrv.org.