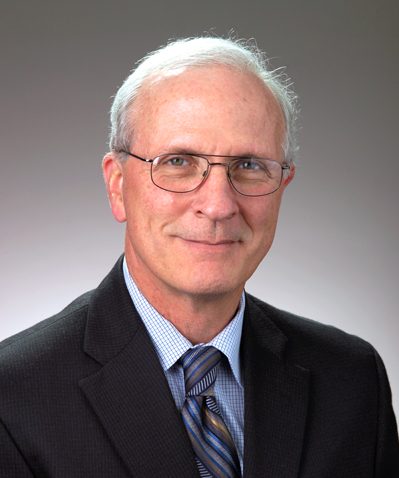 Personal experience was the driving force that prompted Dr. Campbell, a physician in Sanford's Family Practice Department, to become an enthusiastic board member and medical director during Hospice of the Red River Valley's early days. His mother-in-law, who lived with Dr. Campbell and his wife, Linda, was the second patient for Hospice in early 1981. Because of the excellent experience they had, both of them became Hospice volunteers.
He recalls the early days of pursuing Joy Query's vision for Hospice with great fondness. "Edie Lohr helped start the program, develop it and run it," he recalled. "The program wouldn't have started without her. That early board had a great sense of camaraderie and was a very cohesive group."
"It was a new concept for all of us," he said. "Everyone had on-the-job training because there were no training programs for hospice. We had all read Kubler-Ross' book, On Death and Dying, but that was about all the preparation we had. We were neophytes dealing with hard questions, including how to properly handle our first HIV-positive patient, or what to do in a difficult situation where we needed to work through the legal system for an answer. But our focus remained the same: we wanted to provide the best possible care."
"Volunteers and donations were how we functioned in those early years," he recalled. His memories of those early days include admiration for Edith Lohr's leadership, and the great nurses and volunteers who provided the quality, empathetic end-of-life care for which Hospice is now well recognized.
When asked how hospice compares today with yesterday, Dr. Campbell said the basic structure is the same: great service to fulfill a great need in the community. He stressed that the protocols in place now help the staff and volunteers provide even better care. "There's a better understanding today of symptom control," he explained. "Back then we were flying by the seat of our pants; today they have better protocols for controlling pain, nausea, depression, etc. There are also more options for treating pain than there used to be."
As for the future of hospice, Dr. Campbell noted that although the payment sources, including Medicare, may be changing, the patients' needs will remain. "The basic care needs remain the same because the dying process is still the same," he said. If there is consolidation of services, and payment sources become an issue, Campbell noted that the same principles that guided the early team will now be even more important: more volunteers and individual donations will keep Hospice flourishing.
"I had a wonderful time when I was on the board," Dr. Campbell concluded. "I really enjoyed it. It was needed 30 years ago, and it's still an excellent, necessary service for our community."