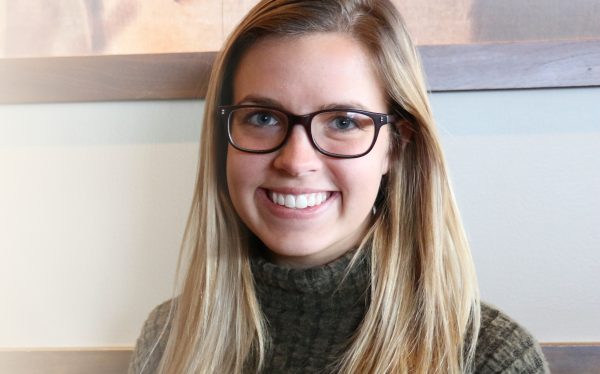 The purpose of any hospice volunteer program is to provide companionship and support to patients. But in Hospice of the Red River Valley Volunteer Bethany Freeland's experience, the program provides so much more than companionship. As a pre-med major and current hospice volunteer, Bethany's experiences are shaping her mindset and enhancing skills that she will take with her into the working world.
When she first heard about the opportunity to volunteer with Hospice, Bethany was intrigued. She submitted her application and got involved quickly, first meeting with Kristi, a volunteer coordinator with Hospice of the Red River Valley, and completing volunteer training in September 2015. "It was simple and easy," she said.
Bethany was paired with Hank, a male patient in his 80s. Thanks to a previous volunteer experience with an adopt-a-grandparent program and the fact that two of her grandparents were served by Hospice, she felt she would be comfortable in whatever situation she found herself in. But like most people who don't have an intimate knowledge of hospice care, she wasn't sure what to expect from Hank or what hospice care would be like. "I just didn't know how sick he would be," she said. "I was a little apprehensive about that, but it's a good thing, being a pre-med person, seeing that side of illness."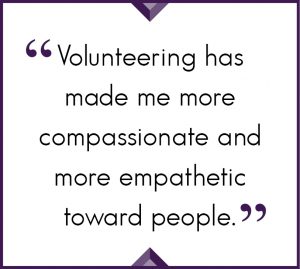 Her worries were unfounded, and Bethany and Hank "clicked" right away. "We really meshed well together; we hit it off right away," she shared. They both grew up in small towns, came from farming families and played the trumpet.
"Every time I go we find different things to talk about that we both enjoy. I feel like we never have the same conversation twice." Bethany said Hank loves to tell stories from his past. "It's nice for him to relive those big moments in his life, the happy moments," she said. "I feel like he gets a kick out of looking back on his life and all of the things he's done."
They share walks, jokes, lunch and cups of coffee at the cafe inside of the nursing home where he lives. "During the summer we always go and sit outside … we work on our tans a little bit," she said, laughing.
Volunteer Coordinator Kristi has witnessed the connection between Bethany and Hank firsthand. Kristi was visiting Hank's nursing home and saw the two eating lunch together in the cafeteria. "Hank was very happy to share with me, with a big smile and a twinkle in his eye, that 'Wednesdays are our day, right Bethany?'
Bethany agreed with a gracious laugh, 'Yes, Wednesday is our day to eat together,'" Kristi shared. "It's obvious to me that Bethany is a very important visitor in his life. She brings a little bit of sunshine with her wherever she goes."
Bethany says Hank is active, is a "social butterfly," works out every day, has an upbeat personality and sees his family often. But the end-of-life is a sensitive time for everyone, even those with the most positive outlook on life. Bethany said he occasionally shares his worries with her. "Volunteering has made me more compassionate and more empathetic toward people," she said. "You can see what they're struggling with at that time, more of the emotional side of sickness, rather than just the physical side."
These conversations have created a unique bond for Bethany and Hank. She doesn't view this time as strictly volunteering. "It's like a time to hang out with a friend," she explained. And friendship and companionship are very important, especially at the end-of-life. "When I'm there, if he's having a bad day, he gets cheered up and he perks up a little bit," she said. "And when I leave, he says, 'You made my day.'"
After one visit, Hank told her that she and her friendship had saved his life. That interaction made a strong impression on Bethany. "I thought that was kind of different because you don't think you're saving their life. You're not really doing anything medical, but just the friendship … I got that feeling inside that I was doing more than just being his friend."
Hank's Hospice of the Red River Valley social worker, Katie, is happy that Bethany has taken such an interest in Hank and his life. "Every time I visit this patient, he talks about his 'friend from Concordia' and how much he enjoys their visits," she said. "I know that he enjoys their time together, and he looks forward to their visits. Bethany is truly adding to Hank's quality of life!"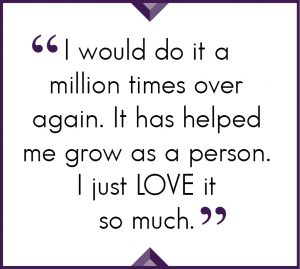 As she continues her education, Bethany feels she is benefiting from volunteering with Hospice. Learning how patients feel, what their concerns are, how to interact with people you don't know well, how to build a bond with a patient—Bethany believes these skills will help her in her future career.
"[A patient's] mood is so important at end-of-life, and if you have a bad mood, your health kind of goes down with it. [End-of-life] isn't the dark and gloomy that most people think of," she said. "It can be happy. I don't know if that's the right word, but you can still have a good time and think about the positive things."
And as for her initial uncertainty about working with someone receiving hospice care, Bethany said she really had nothing to worry about. "I would do it a million times over again," she shared. "It has helped me grow as a person. I just love it so much."
To learn more about volunteering with Hospice of the Red River Valley, visit our website.
*The patient's name has been changed to respect his privacy.
About Hospice of the Red River Valley
In 1981, Hospice of the Red River Valley was founded on the belief that everyone deserves access to high-quality end-of-life care. We fulfill our nonprofit mission by providing medical, emotional, personal and spiritual care, as well as grief support to our patients, their families and caregivers during a tender time in life. Our staff helps those we serve experience more meaningful moments through exceptional hospice care, 24 hours a day, 365 days a year, wherever a patient calls home. The organization serves more than 40,000 square miles in North Dakota and Minnesota, including in and around Bismarck, Detroit Lakes, Devils Lake, Fargo, Fergus Falls, Grand Forks, Lisbon, Thief River Falls, Valley City and many more communities. Hospice of the Red River Valley offers round-the-clock availability via phone, prompt response times and same-day admissions, including evenings, weekends and holidays. Contact us anytime at 800-237-4629 or hrrv.org.