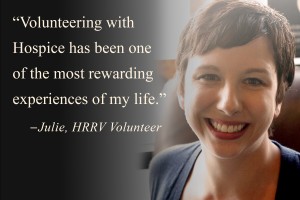 When Julie Swiontek first considered volunteering for Hospice of the Red River Valley, she thought office work suited her best, and she never dreamed she would visit patients. "I thought, 'I don't know how to start conversations. What do I do if something happens?'" she explained.
Julie spoke with Hospice Volunteer Coordinator Kristi Sherven, who reassured Julie that all Hospice volunteers are thoroughly trained on what to do if something happens and who to contact if she needs help. "She was very good at alleviating any fears and concerns I had," Julie said.
In June 2014, Julie was matched with a patient with Parkinson's disease whose wife had recently passed away. Kristi said, "Julie's first match has been perfect. Prior to visiting her patient the first time, she and her husband researched Navy ships, which the patient had served on, so she would have something to talk about on their visit." Julie used the information she found and created a list of questions she could use to strike up a conversation with the patient.
"Our first conversation was awkward," Julie said. "He didn't know me, he had lost his wife two days before, and he was not in a great frame of mind." But Julie kept trying, and her list of questions helped a great deal. "It helped me relate to him and communicate with him. Every time we meet I ask him a few questions about his time in the Navy . . . and now just three months after meeting each other, he's initiating conversation."
Julie and the patient spend time going on wheelchair rides and visiting. When the weather is dreary or he doesn't feel well, the two sit by the aviary in his nursing home. "He loves looking at the birds, so we'll sit and chat a bit," Julie said. "It's very calming."
Communicating with a patient with Parkinson's disease can be challenging because of the language difficulties. Julie said her patient didn't reciprocate greetings or initiate conversation during the first few months they spent together. But recently that changed. Several weeks ago at the end of a visit, Julie put her hand on his knee and said goodbye. "All of a sudden, he took his hands and grabbed my hand with both of his," Julie shared. "And he said, 'Thank you for coming.'" Julie was surprised and struggled to contain her emotions as she left the building. "He had never done that before," she said. "After that he has always said, 'Thank you' or gotten excited when I say, 'See you next week.'"
Julie didn't initially expect to connect with her patient so well, but it's something she's truly enjoyed. Julie said the patient "loves to smile and gets this little grin on his face. He has a very good sense of humor. I feel like he's giving me more than I'm giving him, that's for sure."
Julie has advice for those considering volunteering for Hospice who are uncertain about what to expect. "I would tell people not to be afraid of hospice," she said. "[Visiting with patients] is one of the most rewarding experiences of my life."
About Hospice of the Red River Valley
In 1981, Hospice of the Red River Valley was founded on the belief that everyone deserves access to high-quality end-of-life care. We fulfill our nonprofit mission by providing medical, emotional, personal and spiritual care, as well as grief support to our patients, their families and caregivers during a tender time in life. Our staff helps those we serve experience more meaningful moments through exceptional hospice care, 24 hours a day, 365 days a year, wherever a patient calls home. The organization serves more than 40,000 square miles in North Dakota and Minnesota, including in and around Bismarck, Detroit Lakes, Devils Lake, Fargo, Fergus Falls, Grand Forks, Lisbon, Thief River Falls, Valley City and many more communities. Hospice of the Red River Valley offers round-the-clock availability via phone, prompt response times and same-day admissions, including evenings, weekends and holidays. Contact us anytime at 800-237-4629 or hrrv.org.