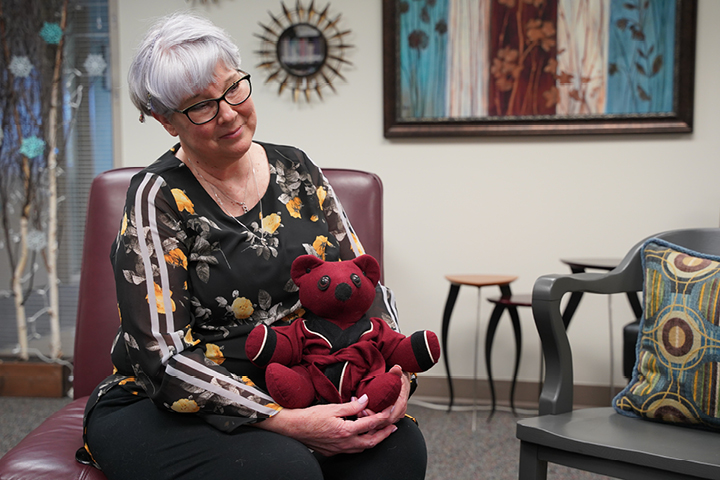 Celebration Bears are handmade by Hospice of the Red River Valley volunteers. They are made from a loved one's clothing as a keepsake to honor their memory.
For the recipients, they are a treasured memory of a loved one. For the creators, they are works of art.
Marilyn Linsalata is one of Hospice of the Red River Valley's most prolific bear sewers, creating dozens each year. She doesn't often get to meet the people she sews them for—but simply knowing her creations are reminders of a life lived and a loved one held close is enough to inspire her to continuing giving back.
One of the few times she met a recipient of her craftmanship is stitched in her memory forever.
A father had lost his young son to a brain tumor. It had taken him years to part with his son's clothing, and he anxiously awaited the bears. Marilyn handed him a bag holding two bears. They incorporated two of the child's favorite things: superheroes and WWE wrestling. It was a beautiful, emotional exchange.
The father held the bears for the first time. Tears filled his and Marilyn's eyes.
"They still smell like him," the father said.
He thanked Marilyn for the bears, and Marilyn thanked him for allowing her to be part of his family's journey. The bears were another touching result of Marilyn's creativity.
Celebration Bear volunteers start with a bag full of clothing and a standard pattern, but Marilyn is always looking to modify and improve the design to make each creation even more special. She has adapted the bear's ears and paws and added weights to the feet so the bears sit upright.
She personalizes each project.
"Where can I be most creative and utilize the material?" she explained. "What gives it an extra touch or two."
She doesn't always received instructions on what a family wants in the bears, aside from an occasional request to include a logo or insignia. If the ideas don't immediately flow, she will sometimes let the project sit on her worktable until inspiration strikes.
One of her toughest challenges was a weekslong bear made from an Army uniform. The finished bear looked like it was wearing a miniature version of the original uniform jacket.
Marilyn's ties to hospice come from a personal experience. Her husband died at home under the care of Hospice of the Red River Valley. It led her to becoming a patient companion volunteer, regularly visiting hospice patients. She finds her own way of connecting with patients.
"One lady had Alzheimer's and couldn't communicate very well," Marilyn said. "She was a published poet, so I started reading her poetry to her, and she would smile because she understood. That's what I did for her every week. It made her happy."
Marilyn and the patients swap stories. She often hears common themes related to the challenges of growing up: life on the farm, fishing trips, family. Regardless of topic, they often relate to feeling comfortable at end of life.
"Sometimes they get overwhelmed, and I remind them that they are the boss, and they get to tell others what they want," Marilyn said. "They are in control. We find things to laugh about."
Laughter is often the best medicine.
"That's how my husband and I approached the end of life," Marilyn shared. "We laughed a lot."
Marilyn continues to visit patients and make bears. They are her way of sharing, making and keeping memories.
"I challenge myself every day when I'm working on the bears," Marilyn said. "I treat them like art projects. I make it fun and special for the person receiving it."
If you're interested in volunteering at Hospice of the Red River Valley, visit our website, or call (800) 237-4629 and ask to speak to the volunteer department.
About Hospice of the Red River Valley
In 1981, Hospice of the Red River Valley was founded on the belief that everyone deserves access to high-quality end-of-life care. We fulfill our nonprofit mission by providing medical, emotional, personal and spiritual care, as well as grief support to our patients, their families and caregivers during a tender time in life. Our staff helps those we serve experience more meaningful moments through exceptional hospice care, 24 hours a day, 365 days a year, wherever a patient calls home. The organization serves more than 40,000 square miles in North Dakota and Minnesota, including in and around Bismarck, Detroit Lakes, Devils Lake, Fargo, Fergus Falls, Grand Forks, Lisbon, Thief River Falls, Valley City and many more communities. Hospice of the Red River Valley offers round-the-clock availability via phone, prompt response times and same-day admissions, including evenings, weekends and holidays. Contact us anytime at 800-237-4629 or hrrv.org.