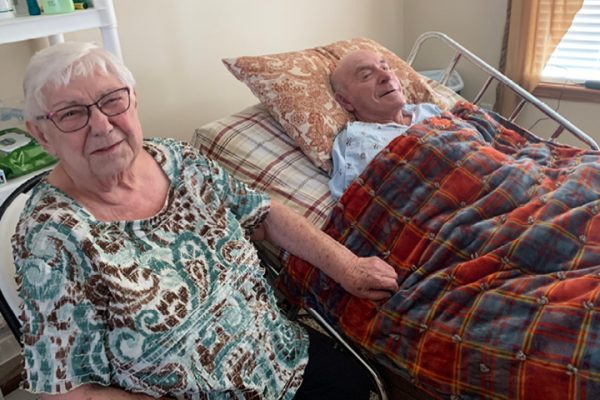 The Baier farmhouse window frames a picturesque spring postcard of North Dakota's famed Prairie Pothole region.
Gently rolling hills remain covered with the stubble of last year's corn crop. Thousands of geese swarm half thawed sloughs—the refueling stop on their annual journey north.
Hilmer and Sharon Baier have shared this view for most of their 60-year marriage. The view from their farm southwest of Kulm, N.D., is more than hills, geese and crops. It's home, and it holds a lifetime of memories from the  lessons of hard work to the children they lovingly raised.
For farmers, as the Baiers once were, spring is the season when anything is possible. The longer one farms, the more one realizes how finite the seasons of life can be. Most are lucky to till the spring soil 40 times.
Hilmer is entering his final season of life. He and Sharon are doing what they can to make sure they get it just right for him. For them, that means being at home, where they want to be—still sharing that view from their dining room window over their morning cup of coffee.
It's a treasured view Hospice of the Red River Valley is helping them keep.
Together
A lone, hardscrabble tree clings to the fence line on the edge of the Baier farmyard. It's a defiant sentinel against the sometimes unbearable south-central North Dakota winters. There is a stubbornness to it. A will to remain where its roots run deep.
For most of their marriage, the Baiers worked hard on this farm. Sharon recalls the struggle to feed cattle in snow nearly as deep as the animals were tall. A blizzard once pinned her inside the barn—too dangerous a trek back to the house.
They raised wheat and barley. It took the Baiers five hours each day to milk 70 cows and feed calves.
"If I was younger, I wouldn't mind milking again," she said. "It was my quiet time. I loved it in the barn."
They started to slow down after Hilmer had a heart attack and open-heart surgery in 1996. They rented out the land as Hilmer opted to pursue his dream of being an over-the-road trucker. He would haul goods cross country on weeklong runs.
However, Hilmer's health woes returned with a stroke about three years ago that landed him in the hospital. He spent some time in a nursing home regaining his health. He's been hampered by smaller strokes since. Those, combined with advancing dementia, required more frequent and constant care.
"It's very important for us to be out here because we like it out here," Sharon said. "We have good neighbors. We want to be in our home. When Hilmer was in the nursing home in Wishek for therapy and I would visit, he would ask me every time when he was going home."
As Hilmer's health declined and her caregiving responsibilities increased, Sharon knew she needed help. For the longest time, Sharon couldn't find anyone to help her care for Hilmer. Then, a nurse at an area clinic suggested hospice care.
Soon after, Sharon became connected with Hospice of the Red River Valley.
"Hospice is the best thing that ever happened to us," Sharon said. "I just couldn't do it anymore. I have a few health issues of my own, and you get burned out pretty fast with a job like this."
Getting Needed Help
Sharon cares for Hilmer in the rural home they've shared for decades and in which they raised their four daughters, who now live in Bismarck and Mandan, N.D., and Detroit Lakes, Minn. It sits on the same footprint where a granary once stood. Sharon recalls shoveling grain in the spot where her living room now sits. It's symbolic of the work they've poured into the farm.
Despite their health challenges, the Baiers have no intention of moving to town. Their kids have suggested moving to an assisted living facility 130 miles away in Bismarck, or perhaps somewhere in between.
With daily staff visits, Hospice of the Red River Valley are keeping them in their home. Certified nursing assistants (CNAs), registered nurses and licensed practical nurses tend to Hilmer's needs and answer Sharon's questions.
"I learned along with the CNAs as they came to help," Sharon said. "I learned how to do different cares. They do a very good job. If they see something that I may not notice, they will mention it or suggest I call a nurse. You are sure of yourself when you have help from the CNAs and nurse."
Sharon appreciates the help navigating Hilmer's daily medications. It takes the pressure off not worrying about making a mistake.
She also particularly appreciates CNA Amanda Hanson. "We have a great relationship," she said. "I can be very open with her, and I feel she really goes the extra mile for Hilmer."
Hospice staff provide Sharon with the time to focus on herself. She takes advantage of the morning mental break, which continues to give her peaceful time to clear her mind.
"When it was just me providing care, I neglected my own health care needs," she said.
Now she feels relief knowing she can call a nurse anytime 24/7 for help. The care, which is covered through Medicare, Medicaid or private insurance, has also helped relieve a financial burden.
"I sure wish I would have known about hospice care earlier," Sharon said. "I tell everyone it's great. I found out I spent a lot of money on his needs, and now through Hospice, it's taken care of."
Overcoming Challenges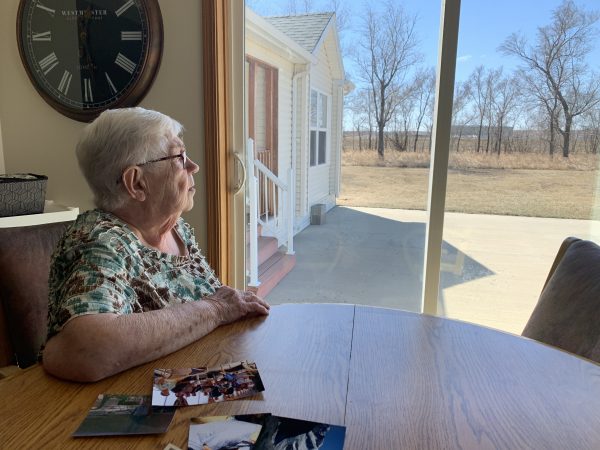 Hilmer has his good days and bad days. Some evenings he likes to stay up and chat about their previous farm near Anamoose, N.D. They farmed there until the Garrison Diversion project bought them out and they moved to their current farm near Kulm.
The Baiers celebrated their 60th wedding anniversary in November 2020.
Both Hilmer and Sharon caught COVID-19, but have since recovered. Hospice staff continued to visit daily, taking precautions to protect themselves and the Baiers.
Hilmer spends most of his time in a hospital bed in the living room. He greets new visitors with a gentle, "Thanks for stopping by."
His view is of each new day's sunrise over the fields he so caringly spent his life tending. Jessie, a black Border Collie, patrols the yard.
Even with the challenges they face, the Baiers are thankful for this time together—the most they've spent since other than an extended trip to Alaska. Sharon spreads photos from the trip on the kitchen table. They reveal majestic mountain peaks and giant, blue-white glaciers calving icebergs. Hilmer is shown panning for gold. He recovered $22 worth of it. These cherished moments together reflect the values of their long marriage: strength, patience and love.
A photo on the wall behind Sharon is one of the couple's most recent together. The text underneath: "Celebrating Life Together."
Sharon looks through the photos and reminisces. It wasn't always easy, she admits. They dealt with droughts and times when money was tight.
"It's kind of the story of our life," she said. "We've had some tough times, but we always got through them."
Each day still brings new challenges, but through the help of Hospice of the Red River Valley, the Baiers are meeting those, too.
"Anybody who has someone at home they are taking care of should really use Hospice, if at all possible," Sharon said. "We all have to go sometime, but at least with Hospice coming in and helping, it makes it easier and gives you a better quality of life."
About Hospice of the Red River Valley
In 1981, Hospice of the Red River Valley was founded on the belief that everyone deserves access to high-quality end-of-life care. We fulfill our nonprofit mission by providing medical, emotional, personal and spiritual care, as well as grief support to our patients, their families and caregivers during a tender time in life. Our staff helps those we serve experience more meaningful moments through exceptional hospice care, 24 hours a day, 365 days a year, wherever a patient calls home. The organization serves more than 40,000 square miles in North Dakota and Minnesota, including in and around Bismarck, Detroit Lakes, Devils Lake, Fargo, Fergus Falls, Grand Forks, Lisbon, Thief River Falls, Valley City and many more communities. Hospice of the Red River Valley offers round-the-clock availability via phone, prompt response times and same-day admissions, including evenings, weekends and holidays. Contact us anytime at 800-237-4629 or hrrv.org.