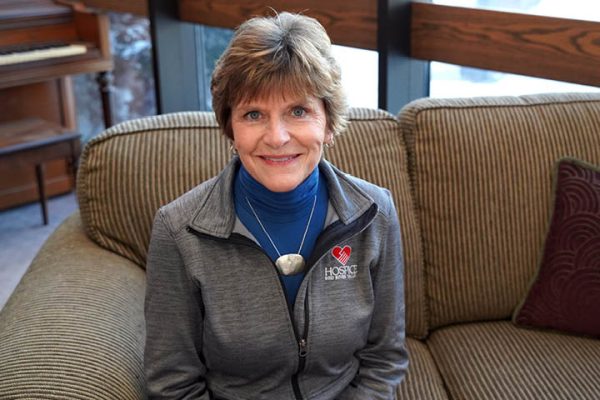 As a community relations specialist at Hospice of the Red River Valley, Sue Sorensen is constantly striving to educate, empower and improve the services offered by the organization. Sue works with professionals and community members to form trust and understanding about their choices when it comes to hospice care.
Our community relations team communicates with families, caregivers, nursing homes, hospitals, and other health care facilities to foster positive and productive relationships with Hospice of the Red River Valley. The team's goal is to not only help patients transition into hospice care seamlessly but also to develop strong relationships with a variety of community members and organizations. 
Sue shares more about her background and passion for educating people about hospice care:
What is your background, and what brought you to Hospice of the Red River Valley?
I worked as a nursing home social worker in Detroit Lakes for 27 years and felt very fortunate to help people at such an important time of their lives. I was familiar with various hospice professionals in the area and loved their type of work. I was also especially aware of Hospice of the Red River Valley, so when a position opened in the Detroit Lakes office, I jumped at the opportunity to join the organization.  
What is the role of a community relations specialist in hospice care? 
I spend a lot of my day in the community, speaking at churches, nutrition centers, civic organizations or others who want to learn about the benefits of hospice care. I also spend a lot of time with a variety of professionals who work at nursing homes, clinics, hospitals and assisted living facilities, so we can continually enhance our available services and support.
In what ways do you see yourself being able to make a difference at Hospice?
It all starts with helping people understand hospice. When I'm speaking to a group, I ask them to picture someone on hospice. Oftentimes, their experiences are somewhat limited, so I try to help them develop a clearer understanding of both the realities and myths of hospice. For example, people often think hospice is for the last few days of life, but the experience can start much earlier. If I can present accurate information, walk through the typical steps of engaging with Hospice of the Red River Valley, answer any questions and concerns and give people the confidence to contact us when they're ready, I really feel that I've made a difference.
How does working at Hospice of the Red River Valley align with your own personal values?
My mom died in the early 1980s when hospice wasn't available in many areas. My family would have really benefited from hospice services. My dad had hospice services 25 years later when he was near the end of life. We were so appreciative for all Hospice did, not only for my dad, but also for our entire family. Going from being a worried daughter to a team member of Hospice of the Red River Valley, I am able to regularly reflect on the value of what we do every day. One of my personal goals is to reach out to families like mine to make sure their needs are met when it comes to end-of-life care.  
What is the most rewarding part of your job?
Having someone tell me what a difference hospice made in their life. It can be as simple as someone sharing they discussed relevant end-of-life wishes with their family and then completed their advance directive.  
What do you wish people knew about hospice? 
That anyone can call Hospice of the Red River Valley and ask for more information and learn about the available support. We hear daily, "I should have called sooner."
Please explain your most impactful patient and/or family experience through your work at Hospice of the Red River Valley.
Someone shared with me that after she began hospice care, she had friends call, telling her how sorry they were that she was receiving services. Her response to them was, "I'm getting close to the end of my life. I'm happy I can have the help of Hospice of the Red River Valley for this last part of my journey. It's a good thing to be on hospice."
Where did you grow up?  
I grew up in Adrian, a little town in southwest Minnesota, 10 miles from Iowa and 30 miles from South Dakota. I'm the youngest of seven kids; I had the perfect childhood.  
Tell me about your family. 
I have been married to my husband, Jay, for 36 years. We have a son, Mike, and daughter, Carrie. Mike and his wife Lauren have a one-year-old son, Patrick. Carrie and her husband Tom have a six-month old daughter, Wren. I also have a wonderful mother-in-law, six siblings (and their spouses), and many nieces and nephews. My family is my biggest joy!  
What are your hobbies?  
Spending time with family and friends, walking, jogging, snowshoeing, biking, baking and working on jigsaw puzzles.  
Contact us today or call (800) 237-4629 to learn more about hospice care and how we can help.
About Hospice of the Red River Valley
In 1981, Hospice of the Red River Valley was founded on the belief that everyone deserves access to high-quality end-of-life care. We fulfill our nonprofit mission by providing medical, emotional, personal and spiritual care, as well as grief support to our patients, their families and caregivers during a tender time in life. Our staff helps those we serve experience more meaningful moments through exceptional hospice care, 24 hours a day, 365 days a year, wherever a patient calls home. The organization serves more than 40,000 square miles in North Dakota and Minnesota, including in and around Bismarck, Detroit Lakes, Devils Lake, Fargo, Fergus Falls, Grand Forks, Lisbon, Thief River Falls, Valley City and many more communities. Hospice of the Red River Valley offers round-the-clock availability via phone, prompt response times and same-day admissions, including evenings, weekends and holidays. Contact us anytime at 800-237-4629 or hrrv.org.