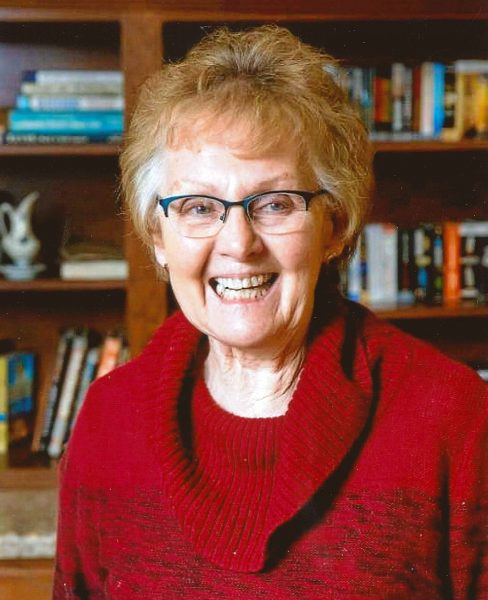 Patricia (Jean) Nelson's granddaughter introduced her to others as her "grandma who lives in the woods." Jean wore the distinction with pride. After all, she loved her idyllic remote cabin near northern Minnesota's Stingy Lake—a sky-blue island in a sea of dense green trees.
Independent and active, she found solace in nature—the relaxing call of loons, rustling of maple leaves, the ripples along the shoreline. She walked long distances daily, skied cross country, snowshoed and always carried a chainsaw in her trunk for the unexpected downtrodden tree in her path. Jean often climbed onto her rooftop to watch the northern lights on full display.
Jean gifted each grandchild a hatchet with their name burned into the handle. She taught them how to carry and use their hatchets, as evidenced by the knee-high trees littering her yard. Many of the grandchildren still use their special gift from grandma to this day.
Kris Steussy, Jean's daughter, lights up when she talks about her mom's vibrant spirit. "My mom was always up for adventure and trying something new and different," Kris explained. Countless anecdotes illustrate Jean's boundless energy and zest for life. Her memorable moments are fondly remembered by family and friends as "Adventures with Jean."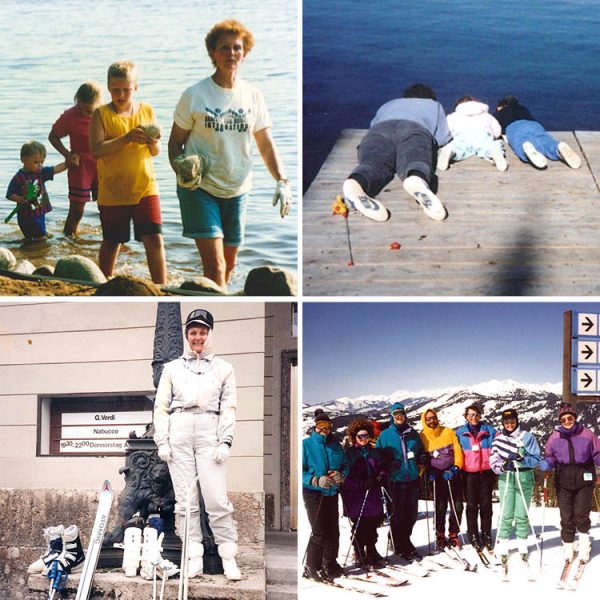 Fearless and full of grit, Jean learned to downhill ski in her 50s—taking on the Olympic slopes in Innsbruck, Austria. Family ski trips were a favorite pastime she continued until well into her 70s.
Kris recalls her mom climbing a towering cedar tree to cut down boughs for holiday wreaths around age 70. "One morning, we were picking pines for Christmas," Kris said. "She climbed up a tree that hung out over the lake to cut down branches, and while she was up there, she laughed so hard the tree shook. I was sure she was going to land in the lake! Adventures and favorite meals were ways she showed affection."
Above all, Jean's greatest pride and joy was the love she shared with her family.
Treasured memories like these meant even more to Kris because her mom was living with vascular dementia for the past several years. Jean suffered a head injury when she slipped on ice during a five-mile power walk, and the incident contributed to the diagnosis of Jean's dementia.
This diagnosis was devastating for Jean who was a fiercely independent and active woman. It was also a turning point for Kris and her family. Jean needed consistent care.
Extra Support & Care
Jean's disease progressed quickly after her dementia diagnosis, and she moved from her house in the woods to Serenity Assisted Living in Dilworth, Minn., two years ago. In April 2021, Jean transitioned into memory care at Serenity for more support.
Even with the excellent care provided by Serenity staff, Kris was encouraged by a nurse at Serenity to seek the support of Hospice of the Red River Valley. "With Hospice, you have continuity in care. Hospice staff worked seamlessly with the Serenity staff, and the communication between Hospice, Serenity and our family was amazing."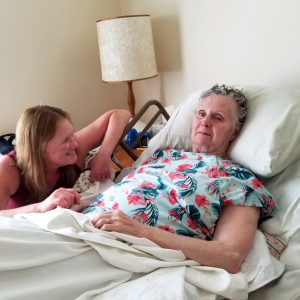 Kris admits it was difficult to adjust her way of thinking to end-of-life care for her mom, but she knew they couldn't care for their mom the way they wanted to without Hospice. "It was an adjustment to change our way of thinking to comfort care. But I love my mom, and it was time to get her through the rest of her journey in a dignified and comfortable manner," Kris explained. "Having Hospice staff to assist was just fabulous. Seeing mom get the extra care she needs with Hospice involved was a huge added benefit and a relief for us. We had many more eyes watching over mom to make sure she got what she needed."
Hospice nurse Krista Sorenson made a visit the same day Jean was admitted to Hospice to make sure Jean had all the needed medical equipment, supplies and medication, including a hospital bed, upgraded wheelchair and more. She continued to visit Jean every week and regularly checked in with Kris.
"The love and support Kris and her family provided to Jean was so inspiring," Krista explained. "Kris and her husband Paul visited her mom daily, and Jean lit up every time Kris entered the room. Kris ensured her mom's final days in this life were full
of life and love."
A Hospice certified nursing assistant (CNA) came multiple times a week to help with Jean's personal cares. Kris noted how amazed she was to see how well her mom handled the first visit from the CNA. "Hospice staff is amazingly professional. The CNA was trimming mom's toenails and putting lotion on her feet, and mom was actually enjoying it. When we arrived, the CNA introduced herself, and said, 'I'm going to let you folks visit, and she left the room.' She just knew that it was time go. I appreciated that."
The Hospice social worker and chaplain called Kris before their first visits with Jean to gain more insight into Jean and her likes and dislikes, and her special attributes. "They really listened and genuinely wanted to get to know my mom. This helped create a level of trust for my mom and us," Kris described. "Hospice focused on making sure they were not doing anything that would bring her mental or physical discomfort. Every single person I dealt with from Hospice of the Red River Valley was kind and compassionate."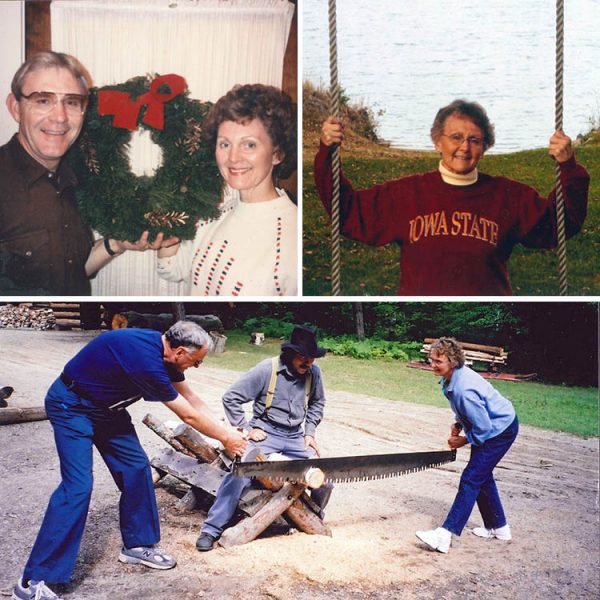 Kris was surprised by the autonomy and level of decision-making she and her family still had with Hospice involved. "They explained everything and let us make the decision that's best for our family," Kris explained.
Nurse Krista explained to the family their role in advocating for Jean. They know their mom best, and Hospice staff will respect their decisions for her.
"I constantly received updates about Mom above and beyond what I expected. Whenever there was a change, Hospice staff let me know," Kris said. "I always had input and I often deferred to you, the experts. It was total collaboration, and I always felt informed."
The Final Journey
Jean passed away on Oct. 1, 2021. Kris quietly reflects on her mom's full and beautiful life. 
For 30 years, Jean enjoyed being a woman of the woods, and there wasn't anything she couldn't do on her own. She moved to her cabin following the death of her husband, Fran, in 1986. Kris especially loved her mom's courage, intelligence, positive attitude, strong faith and self-sufficiency. Her mom was always a phone call away, and Kris talked with her every day. "She helped us manage through so many things throughout my life," Kris said. It's one of many aspects she misses about her mom.
Kris finds comfort in knowing she helped honor her mom's final journey with support from Hospice of the Red River Valley. "Hospice cared about my family the way I would care about my family. The guidance and expertise brought relief. The Hospice staff helped to figure out what was right and best for our loved one; it was reassuring," Kris shared. "My mom is loved by a lot of people, and it's amazing to have that group of people now include Hospice staff."
About Hospice of the Red River Valley
In 1981, Hospice of the Red River Valley was founded on the belief that everyone deserves access to high-quality end-of-life care. We fulfill our nonprofit mission by providing medical, emotional, personal and spiritual care, as well as grief support to our patients, their families and caregivers during a tender time in life. Our staff helps those we serve experience more meaningful moments through exceptional hospice care, 24 hours a day, 365 days a year, wherever a patient calls home. The organization serves more than 40,000 square miles in North Dakota and Minnesota, including in and around Bismarck, Detroit Lakes, Devils Lake, Fargo, Fergus Falls, Grand Forks, Lisbon, Thief River Falls, Valley City and many more communities. Hospice of the Red River Valley offers round-the-clock availability via phone, prompt response times and same-day admissions, including evenings, weekends and holidays. Contact us anytime at 800-237-4629 or hrrv.org.