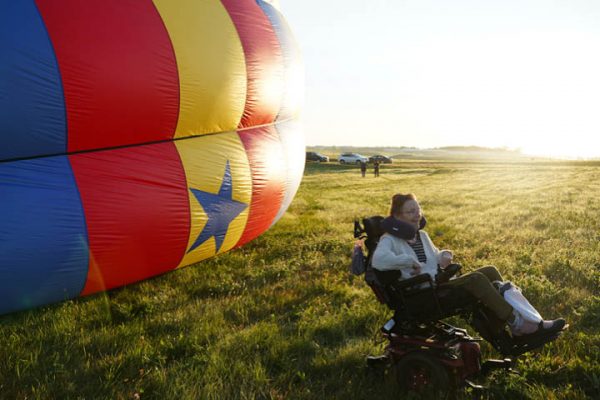 On an early fall morning, Hospice of the Red River Valley Patient Mary Sluke was up with the birds, quite literally. She awoke with excitement in the air and prepared for the ride of a lifetime in a hot air balloon. Mary and her family set off from their West Fargo home through the backroads of Minnesota lakes country to take flight.
For most people, riding in a hot air balloon is a once-in-a-lifetime, bucket-list experience. For Mary, soaring over beautiful lakes country meant even more. Mary lives with Multiple System Atrophy—an incurable, progressive nervous system disorder that affects movement. The symptoms of the disorder, such as rigid muscles and slow movement, are similar to Parkinson's disease. Her illness has gradually worsened during the last six years and Mary became completely reliant on the help of others, including her family and her Hospice of the Red River Valley care team.
But for an hour, in the hot air balloon, the weight of Mary's disease lessened as she flew among the birds and over the idyllic landscape.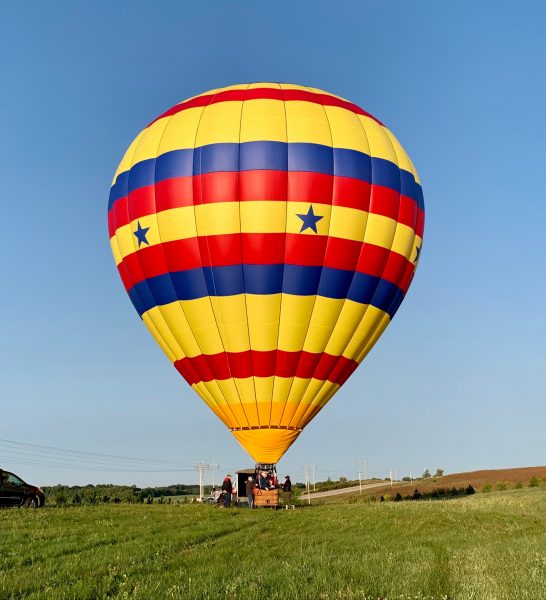 Extra Care for More Moments
In August 2019, Mary and her family welcomed Hospice of the Red River Valley into their home where Mary has received expert care from the hospice team. With a focus on quality of life, the entire care team aligns their work to honor each patient's individual priorities and goals.
Social Worker Cathy Miller has been instrumental in helping Mary accomplish her goals, which helps Mary live each day to the fullest. As a once avid sewer, Mary had many partially assembled quilts and other sewing projects she wanted to see take shape. Cathy arranged for a two-day sewing marathon in Mary's home where Mary was able to witness her projects come to completion.
In continued visits and conversations with Mary, Cathy learned about other things Mary would like to accomplish. Plans came together quickly when Mary revealed she wished to go on a hot air balloon ride.
A Ride of a Lifetime
Weather conditions for ballooning must be just right; it's best just after sunrise or 2-3 hours before sunset with only light winds between four to six miles per hour. 
Loons called through the crisp morning air near Lake Eunice Township and Cormorant, Minn., as Mary and her family arrived shortly after dawn. A caravan of hot air balloon enthusiasts arrived with trailers in tow. It takes quite a few people to help with set-up and take off, and the hot air balloon community is one of comradery and helping one another.
As the sun rose, Mary's family helped her out of the car and positioned her for the perfect balloon watching view. Mary looked on with a beaming smile as three balloons slowly inflated and rose above the dew-coated prairie grass. Her daughter, Lori, could be seen cheek-to-cheek with Mary in excitement for the ride, as Mary's husband, David, lovingly held her hand.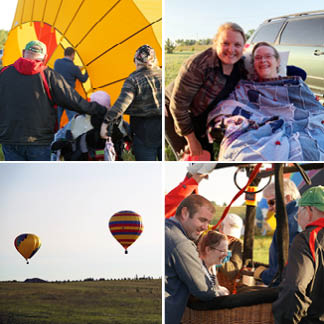 The magnitude of the balloons' size became apparent as the balloon tents unfolded. Two were as tall as a seven-story building and one was five stories high. Once unfurled, the fabric billowed to life as air was pushed into the tent. The balloon rose higher and higher until, at last, it was upright, and Mary was lifted from her chair into the balloon by her son-in-law, Elliot.
This experience was another family affair. In addition to the balloon crew from Dakota Diamond Balloon Team, Mary was there with her family: husband David, daughter Lori, son-in-law Elliot and three granddaughters. Lori joined Mary for the ride, positioned next to the special seat Elliot built for Mary to ride inside of in the oversized picnic basket of the balloon, without which Mary would not have been able to fly. One of Mary's granddaughters peeked out of the sunroof of the family's nearby van and took photos of the balloons taking shape and grandma's special day.
Mary wore a radiant smile as her balloon gently lifted off the ground and floated into the horizon. With sunshine on her face and a gentle breeze in her hair, Mary's family watched as she glided, silently, peacefully, weightlessly through the sky. Unburdened and untethered, Mary flew free.
About Hospice of the Red River Valley
In 1981, Hospice of the Red River Valley was founded on the belief that everyone deserves access to high-quality end-of-life care. We fulfill our nonprofit mission by providing medical, emotional, personal and spiritual care, as well as grief support to our patients, their families and caregivers during a tender time in life. Our staff helps those we serve experience more meaningful moments through exceptional hospice care, 24 hours a day, 365 days a year, wherever a patient calls home. The organization serves more than 40,000 square miles in North Dakota and Minnesota, including in and around Bismarck, Detroit Lakes, Devils Lake, Fargo, Fergus Falls, Grand Forks, Lisbon, Thief River Falls, Valley City and many more communities. Hospice of the Red River Valley offers round-the-clock availability via phone, prompt response times and same-day admissions, including evenings, weekends and holidays. Contact us anytime at 800-237-4629 or hrrv.org.